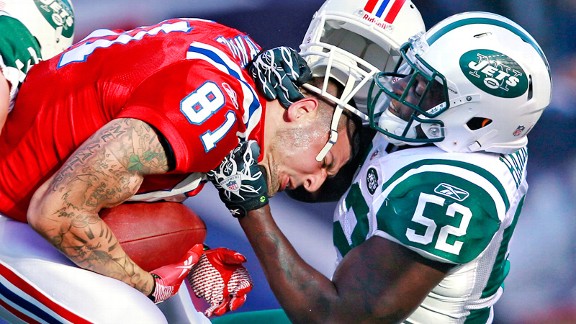 AP Photo/Elise Amendola
David Harris is the heart of the Jets' linebacking corps.Breaking down the Jets, position by position, as we head to training camp:
Position: Linebacker
Projected starters: David Harris (ILB), Bart Scott (ILB), Calvin Pace (OLB), Bryan Thomas (OLB).
Projected reserves: Aaron Maybin (OLB), Demario Davis (ILB), Josh Mauga (ILB), Nick Bellore (ILB), Garrett McIntyre (OLB), Ricky Sapp (OLB).
New faces: Davis.
Going, going, gone: Jamaal Westerman.
Player to watch: Maybin. He was a wonderful story last season, giving the Jets a jolt after going bust in Buffalo. This season will be a challenge for Maybin, who won't be able to sneak up on opponents anymore. He also will have a larger role, playing in most of the sub packages and maybe even spot duty in the base 3-4. He gained weight, with the hope of becoming an every-down player. That won't happen, but the Jets will be tickled if Maybin can duplicate last season's efficiency as a pass rusher -- a team-high six sacks in 197 pass rushes, according to ProFootballFocus.com. With 300-plus attempts, he should be a double-digit sacker.
Potential strength: Harris is a very good linebacker, on the cusp of the elite level. Entering his sixth season, it's time for him to take ownership of the linebacking corps and make it his unit. Harris dropped a few pounds, which should help in pass coverage -- the only flaw in his game. If he can improve there, he'll be one of the better three-down linebackers in the league.
Potential weakness: This is aging group, and this likely will be the final season in green for Pace, Scott and Thomas. Let's call it "The Last Stand." As was the case last season, speed is a major concern across the board. Yes, Scott dropped weight and looks faster, but he was no speed demon in his prime. Once again, the 'backers will be vulnerable in pass coverage, especially on crossing routes in the underneath zones -- i.e. the Patriots. Another concern is Thomas' spot; he's coming off shoulder and Achilles-tendon surgeries and will have to be eased back.
Wild card: Davis. He represents the new-age linebacker in the Rex Ryan system -- smaller, but faster. With the increase in spread offenses, teams need linebackers who can cover in space. That's why the Jets took Davis in the third round; they believe he can make an immediate contribution in sub packages. That'll be his role as a rookie; next year, he'll replace Scott. If he develops quicker than expected, Davis could unseat Scott at some point this season.