CORTLAND, N.Y. -- A notably slimmer Rex Ryan addressed reporters after the first practice of Jets training camp. A few of the highlights: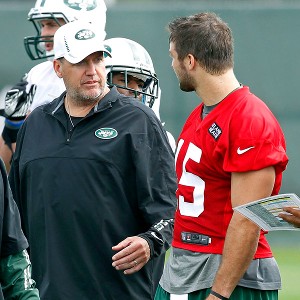 Brad Barr/US Presswire
Rex Ryan may have two star QBs to juggle, but he doesn't doubt his own prowess on defense.In response to a question from wide receiver turned media member Keyshawn Johnson (just give him the darn microphone), Ryan said he will be spending more time on the defense this season. Last year the Jets' defense struggled, giving up far more points per game than in his first two seasons when the team reached the AFC title game.
"I look at myself as the best defensive coach in football," Ryan said, "and that's saying something because Dick LeBeau is pretty darn good, and Bill Belichick is pretty good. But that's the way I've always believed. ... That's the truth, that's kind of how I feel, and I'm going to be more involved over there, whether it is calling games or whatever."
• Ryan cleared up his takedown of Santonio Holmes, who said two-quarterback systems don't work when asked about the dynamic between Mark Sanchez and Tim Tebow. Rex smiled when told Holmes claimed Ryan's comments to ESPN were a joke.
"If that's what he said I'm with him all the way," Ryan joked. Then he said, more seriously, "The thing about what we have to understand is, (Santonio's) job is to come in here (and) play ... We'll worry about all those situations. Tony and I will figure that out."
• As for whether Ryan has changed his core philosophy, he said he absolutely hasn't, and backed that up. Ryan showed the team a blueprint the first night of camp, which was the same outline he gave the team three years ago.
"I just thought that it was important to show, 'Hey look this is what we stand for,'" Ryan said. "I want to play like a Jet. I want guys to understand what that means."