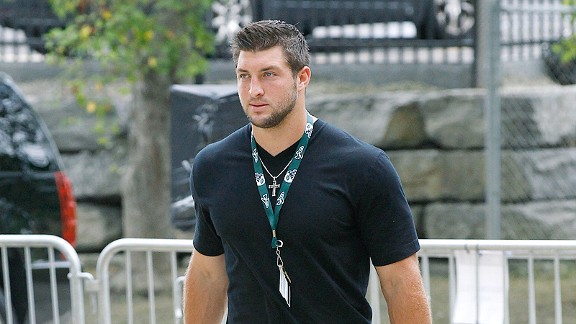 William Perlman/US Presswire
Tim Tebow reported for training camp on Thursday.CORTLAND, N.Y. -- The Tim Tebow trade, always a smart play for the New York Jets, already paid off before the first snap of the first training camp day. It paid off in the form of Mark Sanchez, who arrived here Thursday wearing a black tank top designed to showcase the new and improved definition in his arms.
Sanchez has never been much of a physical specimen, and he's not likely to ever interrupt one of his Jets West summer sessions for a Muscle Beach showdown with his best frenemy, Tebow, a quarterback who reduces linemen to quivering wrecks in the weight room.
But the first-stringer has already responded to the presence of the world's most famous second-stringer, packing on a dozen tough-guy pounds in an attempt to enhance his durability and, of course, to keep Tebow tucked under a baseball cap near the bench.
So Sanchez is ready to fight for what has been his for three uneven years. Good for him, even better for the Jets. The quarterback needed a credible threat to his job, and Rex Ryan couldn't generate one with old man Mark Brunell as his lone alternative.
Problem solved. If Brunell represented a water pistol, Tebow represents a weapon of mass distraction. All the T-shirts in the shop windows announced Cortland as TebowTown, and Sanchez seems to get it.
He's allowing this to be Tebow's town, as long as it's not Tebow's team.