CORTLAND, N.Y. -- Jets rookie wide receiver Stephen Hill impressed coach Rex Ryan not so much with his impressive reception over cornerback Darrelle Revis, but with a block.
"I saw a block and I saw a corner go down," Ryan said.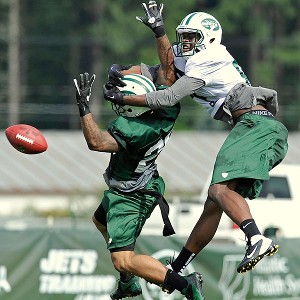 AP Photo/Bill Kostroun
Does rookie Stephen Hill mind getting physical?
Ask Ellis Lankster.
That corner was, again, Revis, who lost his footing a bit in the first practice of training camp.
When asked what he hoped to accomplish this season, Hill said the coach had been pretty specific about what he was after, even if he has toned it down a bit in front of the media.
"We're just trying to win, trying to get to the Super Bowl," Hill said. "That's what coach Rex Ryan is always preaching."
Hill said that Ryan is open about the goal when talking to the team.
"Definitely, that's our whole focus. We didn't make it last year, 8-8," Hill said. "Of course I wasn't a part of that, but I can feel the drive that they have with the veterans. I'm here to put in a little of my skillwork with it."
Perhaps that sounds a bit bold, but Hill looks capable of backing it up on the field. The coaching staff gave him reps with each team, a trial by fire, and Hill made some nice catches including a deep pass from starting quarterback Mark Sanchez.
"It was awesome and right out of the gate, too," Sanchez said of a catch Hill made over Revis.
Perhaps the biggest sign of how good Hill looked was when Ryan, tongue-in-cheek, tried to take credit for drafting the 6-4 receiver of Georgia Tech in the second round. Ryan is better known for drafting corners and other defensive players.
"Really, he's been impressive," Ryan said.