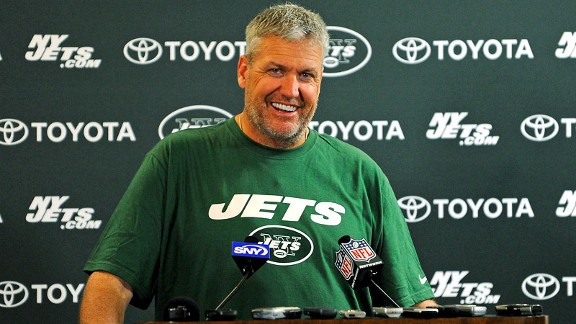 Rich Barnes/US Presswire
Rex Ryan said he's glad to have Santonio Holmes on his team, despite the wideout's flaws.
CORTLAND, N.Y. -- Apparently, Rex Ryan is aware that Santonio Holmes gets mixed reviews from outside the Jets organization, and in answering another question, made a candid remark about his wide receiver.
"As much as everybody dislikes him, I'm glad he's on our team," Ryan said.
Asked to explain what he meant, Ryan just didn't offer the usual platitudes about turning the page.
"Is he perfect? No," Ryan said. "None of us, there's not one person in our locker room that's perfect. Let things go behind us. Let's judge him for how he is right now. We had a poor year there's no doubt, Tone, myself Mark (Sanchez) all of us. We want to have a better year this year and we're determined to do so."
As for Sanchez, Ryan was impressed by how long he stood outside in a T-shirt almost as much as he was impressed by the way Sanchez threw in a downpour.
"Especially that you're in the northeast, you have to be able to throw the football in bad conditions. I've been with some quarterbacks that, when the weather was bad, for whatever reason they just struggle. You see the way Sanchez really zipped the ball today, you see the confidence he has. It makes no difference, wet football, wind, when you can spin the ball the way he can it really made no difference. (I'm) impressed with the way he threw the ball today in those kinds of conditions."
Ryan pointed out some players who have impressed him in the first few days of camp. First up, linebacker Aaron Maybin and Caleb Schlauderaff. "You see the strength," Ryan said of the offensive lineman. Later, he noted that rookie wide receiver Stephen Hill and Chaz Schilens stood out. Special teams coordinator Mike Westhoff even mentioned Schilens to Ryan.
Ryan was asked about New England, and said he expected they would have to stop the Patriots yet again if they wanted to win the AFC East.
"I think our division is the best in football, that'll make everybody happy," Ryan said. "But I believe it's an outstanding division."
That said, he isn't giving New England the title.
"When you talk about conceding the division, yeah right, not me. There's no chance here."
Ryan was asked about the isolated jeers sent Tim Tebow's way during a tough practice for the backup.
"I thought it was some of the defensive guys," Ryan joked.