CORTLAND, N.Y. -- Last year, Jeremy Kerley was the rookie raising eyebrows at training camp for his scrappy play. But by Saturday, Kerley was out with a hamstring issue and coach Rex Ryan called him out with a tone rarely used for his own players.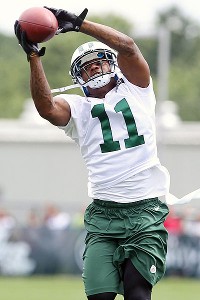 Ed Mulholland/US Presswire
Jeremy Kerley
"Jeremy needs to step it up because, quite honestly, I was a little disappointed in Jeremy in the offseason," Ryan said. "He's got to pick up the system, this new system. You got to put the time in."
The players' coach does not usually single out players. But Kerley has been bothered by the hamstring since OTAs, and will miss at least a week of practice during the team's training camp.
Kerley plays in the slot, and Ryan said that the team could use Santonio Holmes in the spot if they need to find a backup.
More concerning though might be the assertion that Kerley, who came to the Jets from TCU in the fifth round of the 2011 draft, might not be learning the offense put together by new coordinator Tony Sparano.
Last year Kerley caught 29 passes for 314 yards. He also returned punts, getting 29 for 317 yards.
Ryan said that Kerley has proven himself to be a hard worker when needed. He said general manager Mike Tannenbaum told Kerley he needed to catch 250 balls a day, which he did. That same work ethic needs to be applied here.
"We don't need this thing to be a reoccurring thing," Ryan said. "We've got to get healthy and move on."