CORTLAND, N.Y. -- Throw to Cro? Antonio Cromartie loves the idea.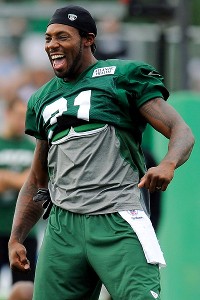 Rich Barnes/US Presswire
Might we see Antonio Cromartie on offense this season?"Let's put it in, let's go, let's put the Cro package in," the veteran cornerback said Saturday. "I'm looking forward to it."
The Jets' coaches have discussed the possibility of using Cromartie on offense. From what Cromartie understands, he'll get a small package of plays to practice.
"I can throw the ball, too," he joked.
Cromartie lined up five times at receiver last season, but he didn't catch any passes. During his final season at Florida State, he practiced at receiver during spring drills, but he never got a chance to do it in a game because he tore a knee ligament and missed the season.
Rex Ryan mentioned the idea Friday. His offensive coordinator, Tony Sparano, is for it. He was a Redskins assistant under Marty Schottenheimer in 2001 when they used CB Champ Bailey at receiver.
"You have to use all your weapons," he said.