CORTLAND, N.Y. -- Bilal Powell doesn't want a lot of attention, but the Jets running back isn't flying under the radar at his second training camp.
As offensive coordinator Tony Sparano likes to put it, Powell has been pushing through the smoke of the line of scrimmage to find daylight behind it so often, the second-year pro is getting reps with the first team.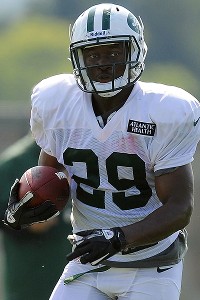 Rich Barnes/US Presswire
Bilal Powell
Jets coach Rex Ryan hasn't declared an official camp battle, but Powell is threatening Joe McKnight for the third-down back role.
"The biggest challenge this year has been getting in with the ones," Powell said. "It's like you're on 'Front Street.' So you have to know it and be confident with it."
Ryan likes Powell's ability to focus when the tackles are live.
"When we had to play him in a game, he had no mental mistakes, made absolutely zero mental mistakes," Ryan said of Powell's rookie season. "And that tells you a lot about him."
Powell benefited last year from the presence of running back LaDainian Tomlinson, who he didn't think at first would be a real resource. But the veteran was approachable from the start.
"When I first got here I had an assumption -- it's LaDainian Tomlinson, he could have big-timed me or anything," Powell said. "But it was open-wings when I stepped foot in the door."
Feature back Shonn Greene has been impressed with Powell at camp. What has Greene seen?
"A lot," Greene said. "He has shown the ability to run between the tackles, the ability to block. I think I'm especially surprised with him in third down. He does a great job of picking up blocks on the line."
Last year, without an offseason training program due to the NFL lockout, Powell wasn't physically as ready to play as the Jets had hoped. He had 13 carries for 21 yards.
"So mentally, he was on top of it," Ryan said. "From a physical standpoint, he wasn't. He had a lot of injuries, little thing here, little thing there, that set him back. We never really got to see his capabilities. Now he's healthy. He's in great shape. He came in camp in great shape.
"It seems like every day he does something that like, 'Ooh that was a nice run' or he does a good job in protection, which isn't surprising."
Ryan has said that Powell's college career at Louisville followed a similar arc. As a senior, he had 1,405 yards on 229 carries, averaging 6.1 yards per carry after a 2009 season where he averaged 3.6 on only 108 carries. Ryan has said he hopes for a similar breakthrough year for the Jets.
"I know the offense," Powell said. "The OTAs and the minicamps actually helped us out, really helped me out a lot. It allows me to go out and play with a lot more confidence now."