CORTLAND, N.Y. -- Woody Johnson should be thankful his football team decided to fight amongst each other for the second straight day, stealing the day's headline. Otherwise, he'd be in the spotlight for his curious comments about the media coverage of Tim Tebow.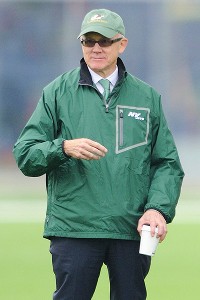 AP Photo/David Drapkin
Woody Johnson
The Jets' owner, who arrived in Cortland Monday night, chatted with reporters during the Tuesday morning practice and offered his take on Tebow-Mania.
"I think the enormity of the coverage kind of surprised me a little bit," Johnson said.
Huh? It was Johnson, of course, who allowed ESPN to set up inside the Jets' training camp, providing blanket coverage for four days last week. The team also is making Tebow available twice a week to speak with reporters. He speaks to the media just as often as Mark Sanchez, the starting quarterback.
The Jets are drawing an unusual number of media members, although the crowd has thinned out considerably since the first week.
"We knew there would be interest, but, even by our standards, this is pretty amazing," Johnson said.
Johnson, asked about a variety of topics, refused to fire back at President Obama, who last week told an Ohio radio station that Jets fans should be nervous about the Sanchez-Tebow dynamic at quarterback.
"He's kind of like a lot of our fans," said Johnson, a key fundraiser for the Mitt Romney campaign. "I'm glad he's a New York Jets fan, first and foremost. That's important, the President of the United States being a Jets fan. That's good, the fact that he's a Jets fan and he cares and he's passionate about the New York Jets. That's a positive."
Tebow Time

Get all the news about the Jets' backup QB and media sensation. Tebow Time
Johnson took issue with Boomer Esiason's controversial remarks about Tebow. The former Jets QB, on his WFAN radio show, said the Jets should cut Tebow because he doesn't help the team.
"I disagree with that," Johnson said. "I think Tebow will be a very valuable part of this team, going forward. We're optimistic with Tebow. He'll be a valuable part of the team."
Johnson backed his coach, Rex Ryan, who is coming off a disappointing 8-8 season. Asked if his belief in Ryan is as strong as it was when he hired him in 2009, Johnson said, "Oh, yeah. Stronger."