CINCINNATI -- Examining some positives and negatives from Friday night's 17-6 loss to the Bengals:
THREE UP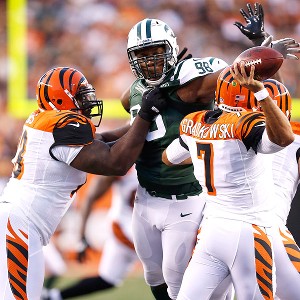 Joe Robbins/Getty Images
Quinton Coples
1. Quinton Coples. He played like a No. 1 pick should play when facing primarily backup players -- he was dominant at times. Showing his strength at the point of attack, the rookie DE recorded a sack, a forced fumble a tackle-for-loss and a batted pass. This should quiet the critics already saying the Jets blew it by passing on OLB Melvin Ingram and OLB Chandler Jones -- for now, anyway.
2. Joe McKnight. This is a huge preseason for McKnight, who is fighting Bilal Powell for playing time as Shonn Greene's understudy. McKnight finished with 66 yards from scrimmage -- 34 receiving, 32 rushing. He showed some giddy-up, and the Jets could use that on offense.
3. Demario Davis. The rookie LB made an early appearance, playing in the first sub package. Clearly, the Jets think he can be an immediate contributor in pass coverage and as a blitzer. Davis finished with four tackles (one for loss), plus he made a tackle on special teams.
THREE DOWN
1. Pass protection. The Jets' three QBs dropped back a total of 29 times -- and they were sacked five times. That ratio stinks. If it weren't for Tim Tebow's elusiveness in the pocket, it might have been seven or eight sacks. There's a lot of work to do in this area.
2. Underneath pass coverage. Yep, that old bugaboo from last season showed up early. LB Bart Scott and OLB Calvin Pace got beat on 18- and 19-yard pass plays to RB BenJarvus Green-Ellis and TE Jermaine Gresham, respectively. The Jets struggled last year against certain backs and tight ends last season, but they're hopeful that improved team on speed will remedy the problem. Not so far.
3. Punt protection. It was jailbreak city at the end of the first half, when T.J. Conley's punt deep in his own end was blocked by Dan Skuta and recovered in the end zone by Cedric Peerman. See what happens when Tebow isn't on the field as the personal protector?