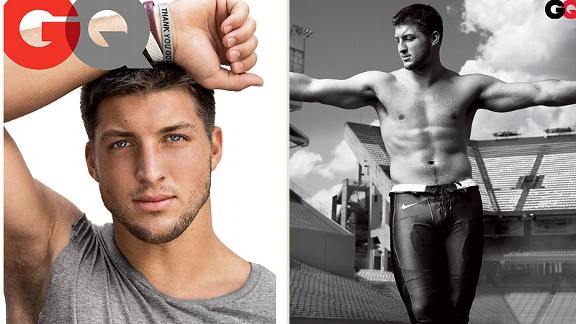 Courtesy of GQ
CORTLAND, N.Y. -- From Day 1, Tim Tebow was the headline in Cortland. In a way, it ended the way it began, him explaining a topless photo.
Tebow appears on the cover of the current issue of GQ magazine, which also includes a shirtless picture of the Jets' backup QB from his University of Florida days. Tebow insisted he had no idea the magazine was going to put him on the cover.
"Most of you knew I was on there before I knew, so it's kind of a shocker for me," he told reporters Thursday after the final practice in Cortland. "It was something I think I did maybe six years ago in college. Honestly, the first time I heard (about the cover) was when we were in the cafeteria and it was on ESPN. That's when I found out, so it was kind of a shocker to me as well."
Tebow gave us plenty to write about here in Cortland. Early in camp, he made national news by pulling off his practice jersey and running shirtless in the rain, a picture/video that made it across the Internet almost instantly.
For the most part, the crowds loved Tebow. There were some hecklers in an early practice, but the catcalls turned to cheers over the three weeks. The loudest ovations came when he ran the ball, not when he threw it. How often does that happen for a quarterback?
There were signs in the crowd each day, but the best one was this: "Tebow puts the stud in bible study." On Aug. 14, his 25th birthday, Tebow signed autographs for fans after practice and was serenaded by a chorus of "Happy Birthday."
On the field, Tebow made news because of his multi-dimensional role. He played quarterback and special teams (as the personal protector on the punt team) -- and, of course, he ran the Wildcat offense when the Jets conducted a clandestine practice this week.
Tebow said he was pleased with his overall performance in camp.
"I feel pretty good," he said.
Aside from the personal-protector role, Tebow said everything has come "pretty natural and easy, stuff I've done for the last 10 or 12 years. That really wasn't an adjustment. ... I never ran on special teams in my life, so that was a first, but it really didn't take too much of an adjustment."
Rex Ryan said he was happy with Tebow's performance, saying he completed at least 60 percent of his passes in practice. But that included 7-on-7 drills (no pass rush), which is easy for a quarterback. His percentage in team drills was closer to 50.