Recap | Box score | Jets Center
EAST RUTHERFORD, N.J. -- Wonder what Joe Namath has to say about Braylon Edwards' hands now?
Broadway Joe spent the week criticizing Edwards for his no-show performance in Week 1 against Baltimore. But Namath won't have much ammunition to work with this week after Edwards' stellar day on Sunday against the Patriots.
Edwards caught four balls for 45 yards and a touchdown in the Jets' crucial 28-14 win over New England. He also hauled in a 2-point conversion from Mark Sanchez in the third quarter. Edwards saw the day as a retribution for the mouthy Jets, who were maligned and skewered all week after a disappointing season-opening loss to the Ravens.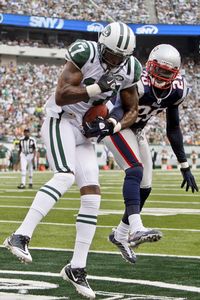 AP Photo/Seth Wenig
Braylon Edwards picked up five catches, one TD, one 2-point conversion and one taunting penalty.
"This is a team that is deserving of being ... mentioned as a contender, not a pretender," Edwards said. "We came out here today and showed them who we really are."
Edwards wasn't the only Jet to make up for a miserable performance against the Ravens. Tight end Dustin Keller bounced back from a forgettable Week 1 with a monster effort against the Patriots (1-1).
Keller had nine catches for 115 yards and hauled in a 1-yard touchdown one week after he stepped out of bounds a yard shy of the first-down marker on a fourth-down play in the final seconds of the Jets' 10-9 loss to the Ravens.
Both Keller and Edwards were in rhythm with Mark Sanchez for most of the day on Sunday, helping the second-year quarterback immensely in one of his best days as a pro (21-for-30, 220 yards, 3 TDs).
"When me and Mark are clicking, it just seems like everyone is clicking," Keller said.
With the Jets down 7-0 in the second quarter, Sanchez and Edwards went to work. They connected on three third-down conversions, the final being a 10-yard touchdown play to tie the game with 6:22 to go in the half. Edwards beat Patriots corner Darius Butler to haul in the TD in the left corner of the end zone and was hit with a 15-yard taunting penalty for dancing in front of Butler.
"When Braylon is on, the offense is hard to stop," Keller said.
Earlier in the week, Namath blasted Edwards, saying the former No. 3 pick had poor hands and lacked the breakaway speed the Jets sorely needed against the Ravens.
But Edwards, who expressed respect for Namath earlier in the week, wasn't interested in rubbing his performance in the Hall of Famer's face. In fact, Edwards says he's done talking about Namath, period.
"Mr. Namath, there's a lot of respect from me [for] the things that he did and [what] he accomplished in the city. So with that, it's cased closed," Edwards said. "I don't want to talk anymore about Joe Namath. He is who he is, and he can make comments like that. He's Broadway Joe so let's leave it at that. He'll make his comments and I'm just going to play football for the New York Jets and do the best that I can."