Jets 29, Vikings 20 | Box score
EAST RUTHERFORD, N.J. -- In his first game with the New York Jets, Santonio Holmes didn't look anything like the 1,200-yard receiver the team traded for in April.
Of course, a little rust was to be expected. Holmes played his first game of 2010 on Monday night after serving a four-game suspension for violating the league's substance-abuse policy. He had three catches for 41 yards in the Jets' 29-20 win over the Minnesota Vikings.
"I didn't feel like myself," Holmes said.
Holmes was thrown to nine times, with six coming in the first half. He spent most of the second half on the sideline.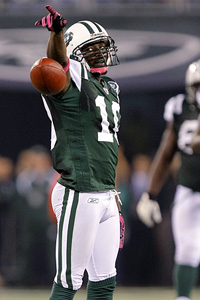 John Munson/US Presswire
Santonio Holmes announced his presence with three catches ... and a few mistakes.
Holmes unofficially played 26 snaps in the first half and just 10 in the second. He made a key first-down catch late in the fourth quarter on a second-and-8 with the Jets trying to run out the clock, making up for a key drop and costly holding penalty in the first half.
Holmes had an uneven, but eventful first half. He hauled in a 19-yard catch on a first-and-10 play from the Jets' 45 that brought Gang Green into Vikings territory early in the second quarter.
He then dropped a pass on third-and-9, forcing the Jets to settle for a 53-yard Nick Folk field goal.
He was also flagged for holding on third-and-15 from the Jets' 9 late in the first quarter, negating Mark Sanchez's 18-yard completion to Jerricho Cotchery. Six plays later, Holmes beat Asher Allen on a slant route over the middle for an 11-yard gain and a first down.
It was his first catch since Jan. 3, 2010, when he caught a first-quarter touchdown pass from Ben Roethlisberger in Pittsburgh's 34-20 win over Miami.
A little over four months later, the Steelers dealt Holmes to the Jets for a fifth-round pick in the 2010 draft. The trade was announced on the same day the NFL informed Holmes that he'd be suspended for the first four weeks of 2010 without pay.
GM Mike Tannenbaum said at the time that the Jets were aware of the suspension and that it was still "worth it" to trade for the talented, troublesome wideout.
Tannenbaum's logic was clear: He was getting a 26-year-old receiver coming off a 79-catch, 1,248-yard season for a late-round draft pick.
At the time, Holmes was facing a lawsuit from a woman who claimed he threw a glass at her in an Orlando nightclub. He was also arrested in 2008 for possession of marijuana and involved in a domestic violence incident in 2006; both misdemeanor charges were later dismissed.
Holmes, the 2009 Super Bowl MVP, was eligible to participate in offseason drills and the Jets' preseason practices and games. He returned to practice on Wednesday.
"[I'm] just getting in the groove of it, trying to feel where I'm at," Holmes said after Monday night's game. "I'm definitely satisfied with how it came out. I can't complain about anything."