Jets 29, Vikings 20 | Box score
EAST RUTHERFORD, N.J. -- At first, Randy Moss was in no mood to talk.
The newest Minnesota Vikings receiver brushed off a reporter who questioned why Moss originally was not going to speak to the media. Moss had just played his first game in his second stint with the team that drafted him in 1998.
He claimed the reporter should know he doesn't talk after games, even though he has done so several times this season.
"What the [expletive] did I just tell you?" Moss asked while getting undressed. "I'm not doing any interviews, all right?"
Yet, when prodded later, Moss decided to entertain the media, talking for more than six minutes about the game and about playing for the first time with Vikings quarterback Brett Favre. Just like his performance in the Vikings' 29-20 loss to the Jets, the receiver apparently needed some time to get warmed up.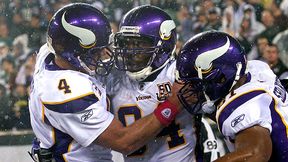 Ed Mulholland/US Presswire
Randy Moss' 37-yard touchdown reception energized his quarterback and his team.
After a slow first half, Moss finished strong with a touchdown in his first game back with Minnesota. Moss had his best statistical game of the season, catching four passes for 81 yards and a touchdown, which happened to be Favre's 500th career scoring toss.
"It's been a long week, I'm kind of worn out, man," said Moss, who arrived in a trade with the Patriots. "There are some things that I'm used to from up in New England, and coming to Minnesota ... I just have to adjust.
"It's been a hard week of me trying to adjust to moving, leaving my family, learning the playbook, making sure I get treatment, and then staying after practice with the coach to make sure I'm getting the plays down."
Moss also downplayed reports that he and Patriots quarterback Tom Brady got into a verbal altercation before the trade to the Vikings, saying that he had received a text from Brady on Monday.
"Tom, I know you watching buddy, I appreciate that text," Moss said. "Sorry we didn't bring it home, buddy, but I appreciate the text."
The veteran receiver's world changed after being not recording a reception in New England's 41-14 victory over the Dolphins on Oct. 4. Reports surfaced that he and New England coach Bill Belichick exchanged words on their plane ride home from the Dolphins game, but Belichick squashed those reports. Moss had caught just nine passes for 139 yards and three touchdowns with the Patriots in four games.
With speculation surfacing of a possible trade, two days later the Patriots jettisoned Moss back to his original team, the Vikings, for a third-round pick. Moss had played for the Vikings from 1998-2004, scoring 90 touchdowns, before being traded to Oakland.
Moss said he's happy to be back, but he and the team had to try to keep him in tune during the game because of the short time he spent with the squad. He also said that he believed the coaching staff only expected to him to play 20 to 30 snaps, but according to an unofficial tally, he played in 42 of 62 snaps.
Moss had a minimal effect in the first half, hauling in just one catch for 7 yards while being targeted three times. Antonio Cromartie, the Jets' No. 2 corner, exclusively covered him.
In the second half, though, Moss broke free and helped Minnesota's passing game flourish. Wide receiver Percy Harvin and tight end Visanthe Shiancoe both said Moss helped open up the field for the rest of the pass-catchers. While Shiancoe didn't take advantage, Harvin caught five passes for 97 yards and two touchdowns.
Moss caught a beautiful touchdown pass that helped Minnesota get back in the game. On a third-and-17 at the Jets 37 in the third quarter, Moss beat Cromartie down the right sideline, catching a perfectly placed ball from Favre over his right shoulder to slice the score to 12-7.
"I have to admit when I throw a touchdown to Randy Moss, I've been thinking about that for eight to 10 years," Favre said. "We needed a spark at that time. Talk about a spark -- he can light a flame."
Even with Moss returning, the Vikings couldn't prevent themselves from falling to 1-3. Moss hopes that his new team can turn the season around while there is still time.
"Next week we'll be in the Metrodome and hopefully they have that thing rocking because we need to get on a roll and we need to get on a roll fast," Moss said. "[We've] fallen back one win, three losses. ... We got to dig ourselves out of a hole and I think with the group of guys we have, I think we can dig out."