EAST RUTHERFORD, N.J. -- You could have a 24-hour marathon of movies from "Saw" to "Nightmare on Elm Street," and not see anything scarier than a shutout is to an offense. And on a night devoted to all forms of frightening creatures, the Jets' receivers turned into ghosts in a 9-0 loss to the Packers at the new Meadowlands.
"I don't ever want to play on Halloween again, I can tell you that much," said Jerricho Cotchery.
The unit unofficially had five drops. Braylon Edwards (one catch, 32 yards) was upset enough that he didn't want to speak to reporters. Santonio Holmes (three catches for 43 yards and two drops) did not speak, citing a family emergency. In the absence of his fellow receivers, Cotchery talked at length, but didn't have much good to say about what had happened or, more specifically, his own performance. Cotchery was targeted 13 times but had just four catches for 89 yards and two drops --- and one of the passes intended for him was intercepted by Green Bay.
"We've been catching the ball in practice in a lot windier conditions than this," Jets coach Rex Ryan said. "This is disappointing. We've got some outstanding receivers, for whatever reason it just wasn't our day."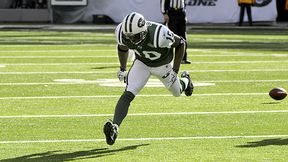 AP Photo/Bill Kostroun
Santonio Holmes and the Jets dropped the ball against the Packers in a frightful 9-0 loss.
Cotchery was the target on three consecutive passes with five minutes left in the fourth quarter, and each was incomplete.
"It was a very frustrating day. I had some plays out there, made some plays but there were plenty more plays that could have been made and that's the most frustrating thing about it," Cotchery said.
Quarterback Mark Sanchez had his worst day of the season, completing 16 of 38 passes for 256 yards and two interceptions for a passer rating of 43.3. Sanchez had averaged a 58.5 completion percentage in the first six games the Jets played, but Sunday that number dropped to 40 percent. Still, Sanchez tried to take the heat off of his receivers.
"With every dropped ball today, I think there were twice as many poor throws on my part," Sanchez said.
Ryan challenged a turnover in the second quarter by Cotchery, who thought he was down by contact before he lost the ball. Earlier in the second, Ryan challenged a fumble by Brad Smith. Both of those calls were upheld, so Ryan couldn't protest a ruled interception on a ball Dustin Keller thought he had.
"I thought I was down, but they made the call," said Keller, who had two catches for 45 yards. "The ball went the other way and nothing you can do about it now."
Keller and Edwards each had one of the seven Jets penalties.
"You start to get a little momentum and the next thing you know you turn the ball over," Cotchery said. "Get some momentum and have a drop, get some momentum and have a penalty ... and next thing you know you don't have enough time left in the fourth quarter."
The Jets had pulled out two close games in the weeks leading up to the bye, against the Vikings and the Broncos. It might have made the 3-0 deficit heading into the final quarter seem less intimidating.
"Everyone was looking for that miracle play and it didn't happen," Jets fullback Tony Richardson said.
Backup quarterback Mark Brunell allowed that it was a tough day for the offense, but said that, at 5-2, it's not really appropriate to panic. Still, in the wake of the team's first shutout since 2006, the players on the field had a healthy dose of self-criticism.
"Every person that put on an offensive uniform didn't get the job done today because we didn't score any points at home," Richardson said.