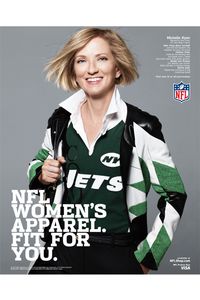 Courtesy of the NFL
Jets coach Rex Ryan earned some major points with his wife Michelle on Monday afternoon.
During his news conference, Ryan light-heartedly compared himself to Patriots quarterback Tom Brady.
"I never realized how similar I am to Tom Brady," the coach said. "The obvious physical appearance would be the first thing. The fact that he's married to a super model [Gisele Bundchen]? Hello? Yes, I'm also married to a super model."
Ryan then pulled out a copy of the December issue of InStyle Magazine, showing reporters a picture of his wife, Michelle, modeling a green Jets collared shirt. The full-page picture is an ad for NFL apparel.
For more from Rex on Brady and super models, click here.