PITTSBURGH -- Santonio Holmes met Jets owner Woody Johnson in the tunnel at Heinz Field after an exhilarating win over Pittsburgh that went down to the wire. Flush with victory, Johnson looked at his wide receiver -- the former Steeler -- and put it succinctly.
"They made a big mistake getting rid of you," Johnson said.
Holmes heard plenty of boos from the fans, and said he was called every name under the sun, but his homecoming was better than he might have reasonably expected. The 22-17 win bolsters the Jets' playoff position after two straight losses to the Patriots and Dolphins.
"We can't try to turn it on the first week of the playoffs, we had to start it off today," Holmes said.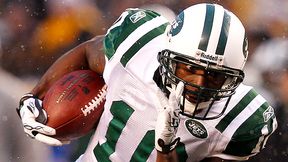 Jared Wickerham/Getty Images
Were the Steelers wrong not to hold on to Santonio Holmes? Woody Johnson thinks so.
The Jets' receivers were back on track with quarterback Mark Sanchez. Holmes caught six of nine balls thrown his way and gained 40 yards. He, Dustin Keller and Braylon Edwards all came up big, and Edwards led all three with eight catches for an even 100 yards.
Before the game, coach Rex Ryan chose to send Holmes out alone as the team captain, although several other Jets technically shared the honor with him. He was the lone representative for the Jets, and he feels fully a part of this team now.
So much so that he was looking to give the Jets every advantage he could, like looking at the signs the Steelers used.
"I couldn't pinpoint very many things that they were doing on the field everything was looking so different," Holmes said. "They had different calls, they had different signals. I was trying to steal some of the signals that Ben was giving to the guys. It wasn't working because everything had changed up."
Holmes, the Super Bowl MVP when the Steelers won it all back in 2008, said he feels a special responsibility to the Jets, who have been talking about a championship since training camp. When he got into the unfamiliar visitors' locker room after the win, that was the word Holmes yelled out.
"Championship!"
"There are only two guys who've probably been to the Super Bowl on this team," Holmes said (referring to himself and backup quarterback Mark Brunell, who was the Saints' backup last season). "And everybody wants to get there. I want to be the guy to stand up in front of the team and take first charge."
The Jets still have two games to play, but Holmes and his new team are one step closer to their ultimate goal.