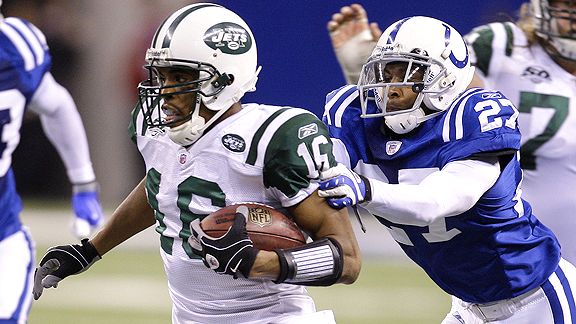 AP Photo/Darron Cummings
Brad Smith and the Jets are going to Indianapolis for the third time since December 2009.
FLORHAM PARK, N.J. -- If you ask Brad Smith about himself, about the way his college quarterbacking skills give the New York Jets a special facility with the Wildcat, about the returns for touchdowns and -- dusted off last weekend -- his bursts of speed running the ball, he will smile and answer politely.
But it will be about the blocks on that running play, or the teammate who created a gap on the return. The Jets' most versatile player is also the least likely to stand up and talk about it. This is about as bold as Smith gets:
"I think in every game I want to be a catalyst for this team, making a special teams tackle or whatever it is," Smith said. "I want to be the guy to get things going or making a play."
Clearly, Jets coach Rex Ryan's locker room speeches haven't rubbed off on the understated Smith, who played quarterback at Missouri. Back then he became the first player to pass for 2,000 yards and rush for 1,000. Now in his fifth season in the NFL, Smith is the only player since 1933 to have scored touchdowns in four ways: as a receiver, as the passer, on a return and by returning a blocked punt.
"Having Brad on your team, he has a knack for making plays," cornerback Drew Coleman said.
Last year in a regular-season game against the Colts, Smith returned a kickoff for a touchdown, and since then he's been nonstop. Coleman said there is so much respect for Smith that when he has the ball, he gets his teammates' best effort.
"When Brad returns punts," Coleman said, "everybody wants to see him be successful. So everybody goes the extra mile to help block, and get him a good look."
Even grizzled special teams coordinator Mike Westhoff -- who does not gush about much of anything -- makes an exception for Smith.
"I'm a Brad Smith guy," Westhoff said. "I love him."
Now heading back to the place where he was able to put up some points on a return, only to see the Jets lose the game, Smith is excited about the opportunity to play the Colts again.
"It's the playoffs," Smith said. "We get to go to their place and play a team that beat us in the AFC championship a really good team. It's really what you play for other than the Super Bowl and all that, but this is part of the process."
Offensive coordinator Brian Schottenheimer said that each game there are between eight and 10 Wildcat plays that call for Smith. On some of them, he has an option to switch from a run to a pass, depending on what the defense presents. Right now Smith has 38 rushes for 299 yards and a touchdown, and four catches for 44 yards.
"It's no secret how valuable he's been to the offense, let alone special teams," right guard Brandon Moore said.
It's no secret, but you probably won't hear about it from Brad Smith.