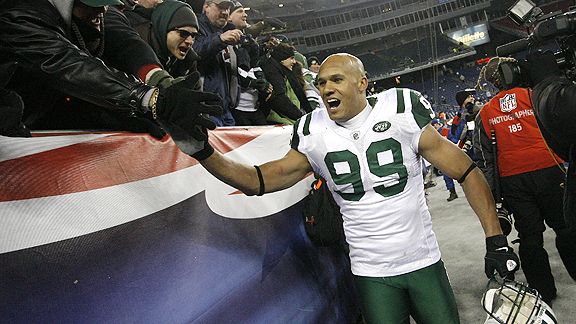 Stew Milne/US Presswire
Jason Taylor, in his 14th NFL season, is one win away from the Super Bowl.
FLORHAM PARK, N.J. -- It's funny how things work out. A chance meeting between a high school football coach and a tall, skinny, 16-year-old landscaper can kick-start a long and prosperous NFL career.
That's what happened on a July afternoon in 1990, when Woodland Hills High School coach George Novak was driving home from a morning practice and saw a familiar face across the street.
It was Jason Taylor, a kid Novak recognized from his previous stint as coach at Steel Valley, a high school in the same district at Taylor's middle school.
Taylor, who'd since been pulled out of middle school and was being home-schooled by his mother, was landscaping in Novak's neighbor's yard on that Western Pennsylvania afternoon, so the veteran coach went over to say hello.
"I said, 'Why don't you come out for the football team?'" Novak recalled Wednesday.

#99 LB
New York Jets
2010 STATS
Tot

36

Solo

25

Ast

11

FF

2

Sack

5

Int

0
"I told him that I was home-schooled, I don't play football," Taylor remembered. "I had never played football at that point."
The coach invited the 6-1, 165-pound Taylor to practice that night.
"He looked athletic, but he wasn't a giant kid," said Novak, whose program has produced six NFL players. "But once he was down at the stadium, we saw that he had potential. He caught a few passes. I said, 'Give him some spikes. He's on the team.'"
After gaining approval from the school board, Taylor played two seasons at Woodland Hills. He lined up at tight end, wide receiver, safety and corner, earning all-conference honors as a senior.
But it was Taylor's prowess on the basketball court that convinced then-Akron assistant Bob Junko to offer him a football scholarship.
"I saw on the film that he had size and speed, but he wasn't playing that much," Junko said in a phone interview on Wednesday. "When I watched him play basketball, you saw that he was a great competitor. He played that game relentlessly, at a speed that those other guys weren't playing at. I knew all we had to do was water him a little bit and he'd grow like wildfire."
After receiving the scholarship offer, Taylor was initially rebuffed by the NCAA because of his home schooling. After several weeks of legal proceedings, the collegiate governing body granted him eligibility.
He was forced to redshirt his freshman season, but once Taylor hit the field, his prowess as a linebacker/defensive end drew the Dolphins' attention. Miami selected him in the third round of the 1997 NFL draft.
Fourteen seasons later, the skinny landscaper from outside of Pittsburgh has amassed 132.5 quarterback sacks, the eighth-highest total in league history.
Taylor, who practiced on Thursday after sitting out with a concussion on Wednesday, is three days away from playing in his first career conference championship game. He'll take the field Sunday for the New York Jets against his hometown Steelers -- the team he grew up rooting for -- just miles from where his football career started with a simple hello from Coach Novak.
Said Taylor: "He got me to come out, and who would have thought, however many years [later] ... here I am."