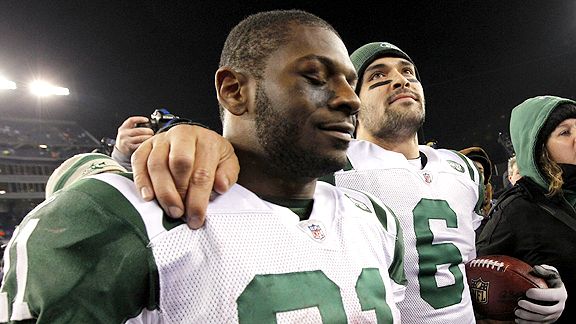 David Butler II/US Presswire
Jets running back LaDainian Tomlinson won't have his eyes closed when he lines up against a vaunted Steelers defense Sunday night in Pittsburgh.
FLORHAM PARK, N.J. -- LaDainian Tomlinson finally vanquished his New England tormentors on Sunday.
Now, the future Hall of Fame running back is ready to take the final step and advance to his first Super Bowl.
Tomlinson has come this far before, losing to the Patriots in the AFC title game in 2008 when he lasted just two carries and one reception before having to watch the New England Patriots beat the San Diego Chargers, 21-12, from the sideline with a knee injury.
Back again in the conference championship game, Tomlinson is so close to his lifelong dream of playing in a Super Bowl he can practically taste it.
"This is the toughest game to lose, because you're right there where you can smell it," Tomlinson said. "You can start to envision the atmosphere and just all that you work for all year long, starting with training camp. You start to really envision that you're finally here."

#21 RB
New York Jets
2010 STATS
Rush

219

Yds

914

TD

6

Rec

52

Yds

368

TD

0
"And to lose [the] game, it's such an empty feeling, it really is," he continued. "It's like it was all for nothing. It's a tough thing to get over, too, because it sticks with you most of the offseason."
That is why Tomlinson wants to do everything he can to get the Jets past the Steelers. Last Sunday, Tomlinson rushed for 43 yards on 10 carries but caught a seven-yard touchdown pass from Mark Sanchez for the Jets' first score of the game. It was sweet redemption for Tomlinson, who was bounced from the playoffs by New England in 2007 and 2008.
The Jets will need Tomlinson and Shonn Greene to help Sanchez against the Steelers. Pittsburgh finished the season as the top-ranked defense against the run. And it wasn't even close.
The Steelers held opponents to 62.8 yards rushing per game. Chicago was second at 90.1.
The Jets, however, rushed for 106 yards against the Steelers during their 22-17 victory in Pittsburgh on Dec. 19. They were one of only two teams to break the 100-yard mark against the Steelers this season.
Tomlinson rushed for 49 yards in that win.
"It is a team that doesn't beat itself," Tomlinson said of the Steelers' defense. "You've got to earn everything you get against them. Obviously, the first time we played them, they didn't have [safety] Troy Polamalu, so we understand that he is going to be out there and it is going to be a totally different game and a totally different defense."
With Polamalu, the Steelers held Baltimore to 35 yards rushing in a 31-24 win in the AFC divisional playoff game.
The Jets will have as difficult a time as ever trying to run the ball, but Tomlinson hopes this AFC title game will go much better for him than the last time he was here.
"I don't have a strained MCL this time," Tomlinson said of his knee injury in 2008. "Obviously, I feel a lot better having my legs under me and being healthy. I'm excited about this opportunity."