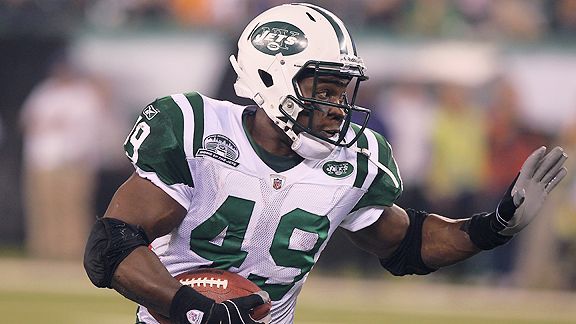 Jim McIsaac/Getty Images
Tony Richardson has played in 234 games in his career. Among fullbacks, that's second only to Lorenzo Neal. Is this the end for the veteran?
This is part two in our daily, position-by-position breakdown. Tomorrow: Tight end.
Focus: Fullback
Depth chart: Tony Richardson, John Conner.
Expiring contracts: Richardson.
Rear-view mirror: The role of the fullback evolved throughout the season. When WR Santonio Holmes returned from his league suspension in Week 5, the offense shifted away from the two-back set and went toward the "11" personnel package – one back, one tight end and three receivers. There were some games late in the season (at Chicago) where Richardson played a larger role, but his playing-time count for the season ended up at only approximately 30 percent.
Richardson did an admirable job in his role. He's not what he once was, but he proved to be a capable blocker. He could be haunted by the fourth-and-1 play in the AFC Championship Game. He was the lead blocker for LaDainian Tomlinson, and there was daylight as Richardson plunged into the right-guard hole, but it closed quickly and Tomlinson was swallowed up. As a runner/receiver, Richardson had only 10 touches for the season.
Conner, one of the stars of "Hard Knocks," averaged only a handful of snaps per game, contributing mostly on special teams. By late in the season, he had no role on offense, save for his extended appearance in the meaningless Week 17 game against the Buffalo Bills. In that game, he strutted his stuff, rushing eight times for 44 yards – including a 16-yard TD. He was inactive for the last two playoff games.
Numbers game: Richardson has played 234 games in his distinguished career. Only one running back has appeared in more – Lorenzo Neal (239).
Crystal ball: Richardson, who turned 39 in December, is mulling his future. He's a pro's pro, extraordinarily durable and a tremendous locker-room presence, but the young buck – Conner – is ready to step into a larger role. Truth be told, there's no reason to keep two fullbacks on the roster. It probably was a stretch to keep two last season, but the Jets wanted to execute a one-year succession plan. The Terminator is a devastating blocker who learned a lot from Richardson.
Hot Seat: Conner. You learned from the best, kid, now it's time to back up Rex Ryan's breathless gushing.
Position rating (scale of 1 to 10): 7.0.