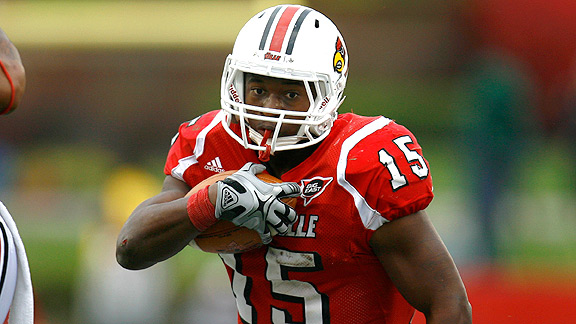 Jim Owens/Icon SMI
Bilal Powell rushed for a career-best 1,405 yards and 11 TDs as a senior.One of the NFL draft magazines described RB Bilal Powell, the Jets' fourth-round pick, as a one-year wonder at Louisville. That he had one year is a remarkable story in itself.
Powell grew up in a tough environment in the Lakeland, Fla., area. He ran with street gangs, got stabbed in high school and was shot at. He ended up moving in with his high school running backs coach, Rusty Bulloch, and it turned Powell's life around. His story is similar to that of Ravens OT Michael Oher, he of "Blind Side" fame.
"He was pretty wild," Lake Gibson High School coach Keith DeMyer told ESPN.com last September, recalling when Powell transferred to his school in the ninth grade. "He had no GPA -- a 0.0. It's amazing that with the gangs and life on the streets and other things he was involved in, he was able to survive. It reminds me of the movie 'The Blind Side.' Bilal's story might be even more incredible."
In a conference call Saturday with reporters, Powell wasn't expansive with regard to his rough upbringing.
"I had a troubled life and I kind of rebelled a little bit," he said. "... I ended up getting saved [religiously] my senior year."
After moving with Bulloch at the coach's ranch in the country, Powell found God. He learned Bible scriptures, did chores around the ranch and changed everything.
"It was like a 180-degree turn overnight," Bulloch told ESPN.com. "He immediately stopped cussing. He stopped running around with gangs. He didn't want to smoke marijuana anymore. He was a totally different person."
Powell rushed for 1,405 yards last season as a senior, more than his first three seasons combined. It was an amazing turnaround. But not his first.