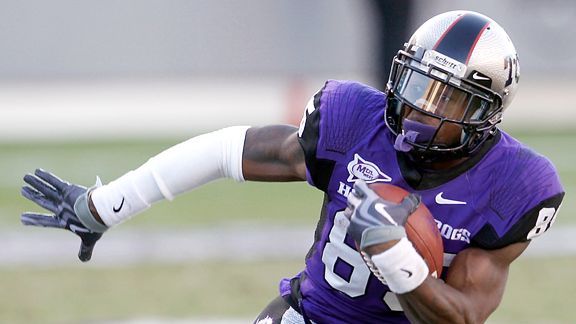 Tom Pennington/Getty Images
Jeremy Kerley is a multifaceted threat on offense and special teams.Jeremy Kerley, the Jets' fifth-round draft pick, is Brad Smith Lite.
The former TCU standout might not be as versatile as Smith -- who is? -- but he can do a lot of different things. In college, he returned kickoffs, returned punts, led the Horned Frogs in receiving last season, lined up in the backfield and, yes, attempted some passes. In his career, Kerley completed five of seven for 135 yards, one TD and one interception.
Dude's got an arm: He was an outstanding high-school baseball player, his fastball clocked at 94 mph. You hear that, Sandy Alderson?
In four seasons, Kerley accumulated 3,910 all-purpose yards. He was one of three finalists for the inaugural Paul Hornung Award, given to the most versatile player in the country.
The Jets thought so much of Kerley that they traded up eight spots in the fifth round to grab him. Clearly, they wanted a Smith-like player just in case the real Smith bolts as a free agent.
"While he's a very talented young man, he also has football intelligence, which allows you to do different things with him," TCU co-offensive coordinator Jarrett Anderson told ESPN.com last December. "You can kind of just throw him in there. He can figure it out on the fly.
"Obviously he is incredible at change of direction. He's not afraid to go over the middle and make the tough catch. He's got great ball skills, all those sorts of things, which adds a great element that we can sit in the staff room and say, what do we want to do today with Jeremy?"
Sounds like Smith, huh?
For the record, Kerley said he patterns his game after former Chiefs return specialist Dante Hall. Kerley looks a lot like Hall in this YouTube video clip, a 69-yard TD on a punt return. Check out the moves.
"I'm definitely a special-teams guy," Kerley said in a conference call with reporters. "I know that my special-teams ability is definitely what makes me the player than I am."