NEW YORK –- As he stood on the red carpet and posed for pictures at ESPN The Magazine's pre-draft party last Wednesday, Darrelle Revis was glowing.
Hours earlier, the Jets star shook hands and spoke with President Barack Obama at a dinner event at the Waldorf Astoria. Only days before the covert operation that killed terrorist Osama bin Laden, Obama met Revis and asked him how Revis Island was doing.
"I said I'm keeping it covered," a humbled Revis said. "He knew about Revis Island which was mind-boggling even more to me."
Revis celebrated his unforgettable night by participating in an annual tradition and attending ESPN's pre-draft NFL party.
Whether you are an NFL superstar cornerback who mingled with the President of the United States earlier that night or a future first-round pick trying to kill some anxiety by listening to ?uestLove DJ on the ones and twos, the ESPN party is always a spot to find celebrities and sports figures on the night before the NFL draft in the city.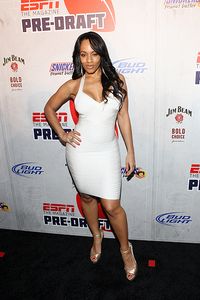 ESPN The Magazine/Bennett Raglin
Model Melyssa Ford
As you walk up to ESPACE, home of the party on W. 42nd St. and 12th Ave., there's a long line of ticket holders outside, waiting to get into the party -- and limos parked all along the road.
Inside, celebrities and athletes stop to the right of the door to pose on the red carpet and take pictures and conduct interviews.
One celebrity turning heads everywhere was model Melyssa Ford.
"I've always had the biggest crush on her," one football player said.
Join the club, buddy.
Not long after Ford arrived, the Pouncey brothers rolled through. Steelers center Maurkice Pouncey and twin brother Mike Pouncey flashed peace signs and delivered identical smiles for cameras on the red carpet. They are truly difficult to tell apart.
Mike had no idea where he would be drafted the next night but he said Miami and New York would make terrific homes.
Mike had dinner in the city prior to the party with his brother and family and ran into Giants fans hoping to land the Florida center with the 19th pick.
"I love the fans here, they have my support and I would love to be a New York Giant," Pouncey said. "They love me. "I got the fan base behind me. Everybody wants me to be a Giant. I wouldn't mind being a Giant."
Pouncey was drafted by the Dolphins at 15. The Prince whom the Giants took in the first round was also in the house as Prince Amukamara got his first taste of New York at the party. Amukamara joined fellow first-round picks like Von Miller, Patrick Peterson, Julio Jones, Nick Fairley and Blaine Gabbert.
Whenever a highly-touted prospect walked through the entrance into the main party room, the DJ booth would announce it to the party.
"I see you, Heisman Trophy winner Mark Ingram!" a man shouted into the microphone while ?uestLove spun Jay-Z, Tupac and Kanye West jams.
Many congregated close to the DJ booth in the middle of the room. Revis stood by a couch nearby. Not far away, Bengals linebacker Dhani Jones lifted his arm in the air and gave his approval of the music.
New York Knick Landry Fields stood tall above a packed crowd filled with beautiful women and plenty of guys wearing shades. There were football players all around -- from future stars of tomorrow to current stars like Houston's Brian Cushing and the Ravens' Ray Rice and legends like Jerry Rice.
Giants wide receivers Victor Cruz and Ramses Barden caught up at the party as well. ESPN personalities like Hannah Storm mingled in the crowd. In other spots, there were celebrities like Gossip Girl's Tika Sumpter and musicians like Estelle and Pepa from Salt-N-Pepa.
In a normal offseason, there are typically more Giants and Jets at the party, but many players were out of town and training elsewhere due to the lockout.
Revis Island, though, made it to the party again, capping off an unforgettable evening for him that started with a presidential handshake.
"It's ESPN, it doesn't get no better," Revis said of why he comes annually. "They put out all the best sports, so I'm a fan of it and I know the whole staff from doing work with them in the past."