One year after being booted by the New York Jets in a controversial move that stunned and angered teammates, guard Alan Faneca has decided to leave the NFL on his own terms.
Faneca, 34, announced his retirement Tuesday, ending a distinguished career that spanned 13 seasons and included nine Pro Bowls and one Super Bowl championship with the Pittsburgh Steelers. He will be a strong candidate for the Pro Football Hall of Fame.
"Playing in the NFL has been a childhood dream come true," Faneca said in a statement. "Thirteen years later, I have decided that it is time to move on."
Faneca played last season with the Arizona Cardinals after two years with the Jets, who signed him to one of the biggest contracts in franchise history and the richest ever for a guard -- five years, $40 million.
Looking for someone to galvanize an offensive line that included young talents Nick Mangold and D'Brickashaw Ferguson and established veteran guard Brandon Moore, the Jets splurged at the start of the 2008 free-agent signing period, jumping on Faneca as soon as he hit the open market. The enormity of the contract stunned many league observers.
A few days later, the Jets signed right tackle Damien Woody to form what would become one of the elite lines in the league.
Faneca wasn't the dominant player he was in Pittsburgh, but he brought leadership and toughness to the Jets' line, working between Mangold and Ferguson. In critical short-yardage situations, the Jets often ran behind Faneca. He made his eighth and ninth Pro Bowls.
He was looking forward to a third season with the Jets, but he received a shocking phone call from Rex Ryan during the 2010 draft. After selecting Vladimir Ducasse in the second round, the Jets had decided to release Faneca even though they still owed him $5.25 million for 2011.
The final bill for Faneca: A staggering $21.5 million for only two seasons.
In his retirement statement, Faneca thanks the Jets, Steelers and Cardinals.
"Each and every teammate, coach and front office employee has made a lasting impact on my life," he said. "It was a pleasure playing for first class organizations who surrounded me with incredibly dedicated individuals."
Matt Slauson ended up starting every game last season at left guard, overcoming a shaky start to finish with solid grades. He often said he learned a lot by watching Faneca for a year.
Faneca, the Steelers' first-round draft pick out of LSU in 1998, played in 206 NFL games. His string of 144 consecutive starts was the longest active streak for a guard and third-longest for any offensive lineman, behind Kansas City center Casey Weigmann (158) and Detroit tackle Jeff Backus (159).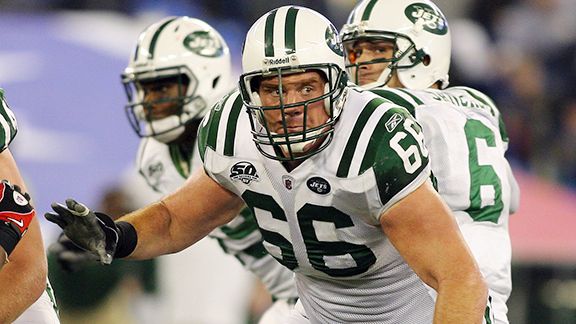 Luc Leclerc/US Presswire
Alan Faneca was one of the linemen who protected Mark Sanchez during the QB's rookie season.