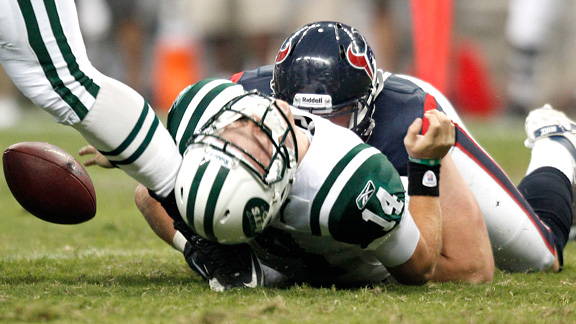 AP Photo/Eric Gay
Greg McElroy got knocked down, and he got up again ... and again ... and again.HOUSTON -- Rookie QB Greg McElroy said he felt a little bit sore after the game. No wonder. He played three quarters, attempted 39 passes, took five sacks and countless other hits. He was one of the big stories in the Jets' 20-16 loss to the Texans.
McElroy, a seventh-round pick from Alabama, started slowly, fumbling on a strip sack on his first possession. He settled down and wound up leading the offense to two field goals and a touchdown.
"I was really nervous -- naturally, I suppose," he said. "It's kind of funny. My first start in college, I started 2-for-12 with a pick against Virginia Tech and we were able to answer back. The great thing is, I was able to get with Mark (Sanchez) and Bru (Mark Brunell) at halftime and talk to them and use them as resources. It slowed down for me in the second half and I thought we played well."
McElroy almost pulled out the game. After the Texans went ahead 20-16 with 1:56 to play, McElroy got the ball at his 24 and drove to the Houston 20. He nearly had a 46-yard touchdown pass to rookie WR Michael Campbell with 55 seconds left, but Campbell dropped it in the end zone.
On the final play, McElroy made a mental error, scrambling out of the pocket as time ran out and running 10 yards beyond the line of scrimmage. He was flagged for an illegal forward pass, and that was that. Game.
McElroy played so much because Brunell sat with a finger injury.
REX HOT: Rex Ryan went nuts in the second quarter, when the Jets had to burn a timeout for having too many men on the field on a first down from the Houston 4. The guilty party appeared to be DE Marcus Dixon, who jogged on the field late -- the Jets' 12th man.
Ryan, enraged, took off his headset and spiked it to the ground, reminiscent of his headset spike at the end of the AFC Championship Game in Pittsburgh.
THE BIG FELLAS: Ryan was pleased with the play of rookie DL Muhammad Wilkerson and NT Kenrick Ellis. Actually, Ellis outshined Wilkerson, making two tackles (including a goal-line stuff) and batting a pass that was intercepted by LB Josh Mauga. Ellis let his pad level get too high at times, but displayed power and hustled downfield on plays.
"It was more than I thought it was going to be," Ellis said.
Wilkerson started the game, as expected, and didn't really do anything noticeable -- unless you want to count an offsides penalty. On one play, he lined up as a stand-up rusher.
D-MASE: On the ESPN pregame show, Ryan predicted that WR Derrick Mason would catch between 90 and 100 passes this season. That's rather stunning, even by Ryan's standards, considering the leading receiver on the team last year (Dustin Keller) had only 55 catches.
Ryan explained, saying, "A slot receiver typically in this league will catch about 60 balls, but I think he's exceptional. With the two guys we have on the outside, with Plaxico (Burress) and 'Tone (Santonio Holmes), he should be a special slot receiver."
ODDS AND ENDS: Rookie RB Bilal Powell (nine carries, 25 yards) didn't run for big numbers, but he showed some giddy-up on a 19-yard screen pass. ... Nice game for TE Jeff Cumberland (six catches for 77 yards). ... PK Nick Folk was good from 33 and 40 yards. Nick Novak made his only FG try, 35 yards. ... The punting battle was about even. T.J. Conley should've had the Texans pinned at the 1, but Brodney Pool failed to down the ball and it went for a touchback. ... Rookie Jeremy Kerley looked comfortable on punts and kickoffs. His highlight was a 34-yard kickoff return. He caught the ball nine yards deep and took it out. You're going to see a lot of that with the new kickoff return.