FOXBOROUGH, Mas.--All eyes on the Jets' defense focused on the league's leading receiver Wes Welker on Sunday and finding ways to keep him from burning Gang Green. That strategy brought some success -- and as to be expected -- some failures in Sunday's 30-21 loss.
"One thing is we didn't want Wes to beat us this week but he did come out with some big plays," said cornerback Darrelle Revis, who matched up with Welker for most of the day.
While the Jets for the most part did a good job containing Welker on Sunday, they did yield some big plays to the speedy receiver, notably a 73-yard pass in the second half. Welker beat a zone coverage when he ran by Revis and Eric Smith for the 73-yard catch that lead to an eventual Patriots touchdown.
Welker finished with five catches for 124 yards but did not score. That marked his fewest catches this season and his second-lowest yardage total through the first five games of the year.
In the matchup between Revis and Welker, Revis did an admirable job against the slot receiver. According to ESPNBoston.com, Revis covered Welker on 42 plays and held him to two catches for 77 yards, with 73 of those yards coming in a reception against a zone scheme. Welker was targeted three times against Revis and beat him once in man-to-man coverage.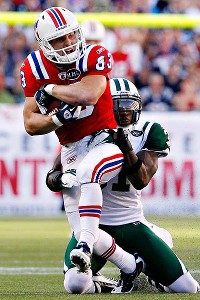 David Butler II/US Presswire
Wes Welker's 124 yards on five catches went a long way as the Patriots beat Gang Green 30-21.
"We tried to switch it up on him a little bit," Revis said of the coverage against Welker. "I was on him a couple of times, in zone a couple other people were on him, Kyle (Wilson), Donald Strickland. We tried to give him a mixture of things. He made a couple great plays today, especially the big one."
Said Revis with a laugh: "Overall, it didn't look like he had a 216-yard game as he usually does."
For most receivers, a five-catch, 124-yard game would be a great day of work, but for Welker, it didn't meet his season average. Coming into the game, he averaged 10 catches per contest to go with 154 yards per game. To put into context, that's more than the trio of Santonio Holmes, Plaxico Burress and Derrick Mason is averaging combined.
Welker acknowledged the challenge of facing off against Revis, who has been known to shutdown some of the top receivers in the league.
"He's always a factor. He's a great player," Welker said. "You definitely have to make sure you're very crisp with all your routes and really set him up with stuff and be smart about it. Every play is go-time when he's across from you. He does a great job with all that. It's a little game of cat and mouse sometimes with him. You just have to keep lugging away and hopefully and hopefully get some big plays every once in a while."
While Welker ultimately did not score in the game, he still helped his team get the win in the big divisional showdown. The Jets and Revis might have limited Welker as much as any team this season but he still had his moments.
"Right now with as hot as Welker is you have to do what you can to take care of him," safety Jim Leonhard said. "He really had two big plays and we made mistakes on both of them and outside of that I thought we did a decent job and you look at the numbers at the end of the day and he has a huge day. It's frustrating, you have to execute for 60 minutes against them, they are tough. They give you a lot of different looks, they do a lot of different things offensively and a lot of matchups you have to make adjustments too and point blank we didn't do a good enough job to win."