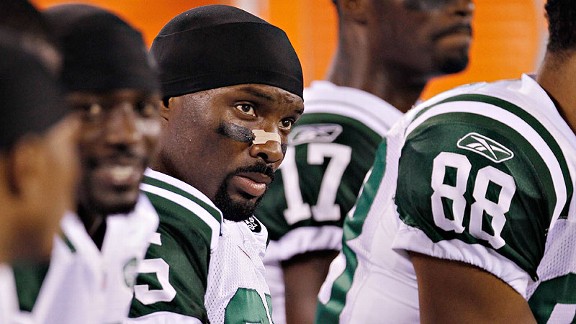 AP Photo/Julio Cortez
Derrick Mason goes from the Jets' doghouse to the Houston Texans. The Jets agreed in principle Tuesday night to trade WR Derrick Mason to the Houston Texans for a conditional seventh-round draft pick, sources said.
Thoughts:
• Can't say I'm surprised. There was speculation circulating around the team Sunday that Mason, demoted in favor of rookie Jeremy Kerley, was on thin ice.
• Did someone say "wake-up call?" Nothing shakes up an underachieving team quite like a firing or, in this case, a trade. A lot of fans wish it could've been O.C. Brian Schottenheimer; you got Mason instead.
• Rex Ryan insisted Monday that Mason's diminished role had nothing to do with the New York Daily News story that said Mason complained to him about Schottenheimer. He also said it had nothing to do with an ESPNNewYork.com report that said the benching was due to critical public comments about the offense.
There are mixed signals on this one. You hear he was dumped because he was struggling with the playbook and didn't know some plays. I don't doubt that for a second, but you're naive if you think that was the only reason. Mason had a reputation in Baltimore for pouting (Ryan, a former Ravens assistant, knew that), and there's no doubt there was some disharmony behind the scenes with the offense struggling.
• The Jets are thin at receiver, with Kerley backing up Santonio Holmes and Plaxico Burress. If there's an injury, they're in trouble. That tells you just how badly they wanted to get rid of Mason. And, no, they're not going to trade for a veteran receiver before next Tuesday's trading deadline. That wouldn't make much sense, would it?
• This is what an opposing personnel executive told me Tuesday about Kerley: "I actually think he can do what Mason does right now."
• The Jets were criticized when they parted ways with veteran leaders such as Jerricho Cotchery and Damien Woody. They released Cotchery, one of the most respected players in the locker room and a Schottenheimer favorite, and brought in Mason -- a bad move for team chemistry.