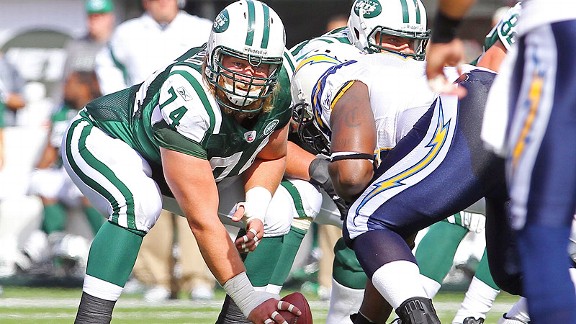 Ed Mulholland/US Presswire
The Jets are 5-1 with Nick Mangold in uniform this season, 0-2 without him.It is hard to overestimate the effect Nick Mangold has had on the New York Jets' offense. Just look at the wins and losses.
The Jets' three-game losing streak started after the center sustained a high ankle sprain, an injury that caused him to miss a pair of games. The last of those losses was in New England as Mangold took on Patriots nose tackle Vince Wilfork on one good leg.
Mangold is responsible for more than just snapping the ball to quarterback Mark Sanchez. He also calls out the defense as he sees it on the field. His ability to recognize schemes and shifts helps the line react in real time. With the Jets preparing to host the Patriots this Sunday night, Mangold is back to practicing fully as the high sprain fades.
"He's the best center in football," coach Rex Ryan said. "Kind of like the Darrelle Revis of corners, that's what Nick Mangold is at center. Having him out obviously is a great loss to us."
The self-effacing Mangold scoffed at that.
"Darrelle's in a league of his own," Mangold said.
But look at the facts. The Jets struggled as Mangold sat out, losing at Oakland and Baltimore. Mangold said that a lot has come together for the offensive line since that time.
"I think that we've been a lot better executing much more consistent and I think that's helped push us in the direction we want to go," Mangold said.
Mangold returned during the first matchup with the Patriots in Foxborough. Although the Jets lost that game 30-21, the team finally got the running game on track. Shonn Greene had 83 yards on 21 carries in that game after being nearly invisible most of the early part of the season.
Ryan isn't the only one praising the team's veteran center.
"He's our second quarterback," Greene said. "Mark is the first, he's the second."
Having a balanced running game has been key for the Jets, now on a three-game winning streak. The team is undefeated at home, and think the crowd noise will give them an advantage on Sunday.
"He gets everyone going where they need to be, and he really is irreplaceable," tight end Dustin Keller said. "You know, you get a guy in there and coach him up as much as you want, but you can't replace the knowledge and all the time he's put in with these guys. It's huge."