Jim Leonhard has been one of the most up-front players in the Jets' locker room and, after a 37-16 loss at home to the Patriots, the safety didn't shy away from the full implications of the game.
"We win this game, we got kind of a stranglehold on the division -- and you let it slide," Leonhard said. "So obviously there's a lot of frustration.
"It was a big goal of ours to go ahead and win this division, and we put ourselves in a hole again. Not saying it can't happen, but it's unlikely to happen at this point."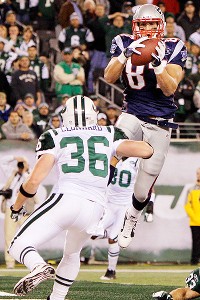 AP Photo/Kathy Willens
Jim Leonhard and the Jets couldn't contain Rob Gronkowski, who had eight catches for 113 yards and two TDs.
Coming in tied with the Patriots (6-3) and Bills (5-4) for the No. 1 spot, the Jets (5-4) are now a game back in the AFC East -- and have lost twice to New England. So for the third straight year, the Jets are unlikely to have a home game in the playoffs -- if they can get there.
"We just wish we had a chance to make it different by winning this game," said cornerback Darrelle Revis, "and obviously that's not the case anymore because we lost."
To add insult on Sunday night, the Jets gave up more points to the Patriots than they have to any opponent in the Rex Ryan era. The defense gave up a touchdown pass to Rob Gronkowski in the final seconds of the first half, and was gashed when Patriots quarterback Tom Brady went to a no-huddle offense in the third quarter.
"It's frustrating," Jets linebacker Aaron Maybin said, "being out there and having drives like that where you know you have to get the stop, and they're out there moving the ball."
The no-huddle kept the Jets from being able to substitute players, and Brady kept exploiting the mismatches. Brady got the ball to within five yards of the end zone, then found Gronkowski for another touchdown and a 23-9 lead with 4:44 left in the third quarter.
Brady had a 118.4 passer rating, with 26 completions on 39 attempts for 329 yards with no interceptions.
Jets safety Brodney Pool was inactive for the game, but was in the locker room afterward. He said he didn't know if he would be able to play against Denver on Thursday night.
"I'm gradually getting better," Pool said. "I'm just going to take it one day at a time try to get back out there. I don't like watching, so I'll try to get back as fast as I can."
Jets linebacker David Harris said he left the game briefly after re-tweaking his ankle, but said he didn't think it was anything serious.
The Jets will need all available pieces with a short week of preparation ahead and then a trip to Denver. It's not an unfamiliar spot for the Jets to be in, but it's not comfortable either.
"Obviously our backs are up against the wall. We gotta punch our way out," Leonhard said. "We've been here before. For some reason we feel very comfortable putting ourselves in this position. ... But we just got to fight. We've got to fight all the way through Week 17."