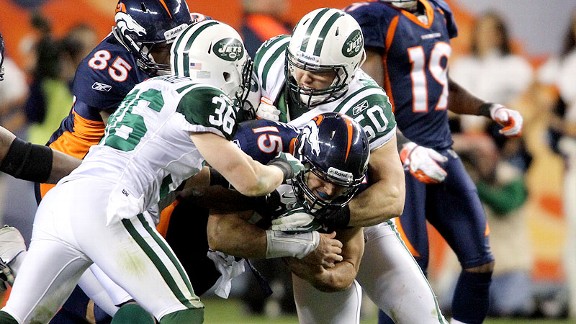 Chris Humphreys/US Presswire
Garrett McIntyre (No. 50) turned the tables on Tim Tebow during Gang Green's Thursday night loss.Former Canadian Football League star Garrett McIntyre is used to being called "O Canada" by Rex Ryan.
But during Tuesday's practice, the Jets coach called his rookie outside linebacker/special-teamer something else: Garrett.
"I hadn't heard that before," McIntyre said.
"Yeah, I don't know how that slipped out," Ryan joked Friday. "but we'll go back. If all of a sudden, he's not playing very well, we'll go right back to 'O Canada.'"
Quite frankly, McIntyre doesn't care what Ryan calls him. He's just glad to have a job in the NFL and a sense of security -- something he's never had before.
On Friday, the day before his 27th birthday, McIntyre reflected on how he was able to defy the odds and get to this point: never giving up and rising from anonymity to become a starter in the Jets' highly touted base 3-4 defense -- though the team is expected to utilize more sub-packages against Buffalo on Sunday.
Week 12: Jets vs. Bills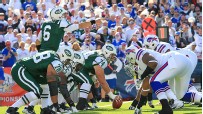 Gang Green faces AFC East rival Buffalo on Sunday. Jets Center » Blog »
• 50 Greatest Jets

• He remembered how he wasn't recruited out of South Tahoe High School as a senior following his team's 0-9 season.
• He remembered how Fresno State was the only Division I program in the country willing to give him a chance to walk on.
• He remembered coming out of nowhere to win the WAC Defensive Player of the Year award four years later.
• He remembered being undrafted, signing with the Seahawks in May of 2006, then being cut after a month.
• He remembered a week stint with the Cardinals in mid-August, 2006. A week stint with the Titans followed, as did a league suspension after he tested positive for a banned substance.
"I took some stuff that I probably shouldn't have been taking," McIntyre told ESPNNewYork.com. "When you come out of college, you're not big enough, you're not fast enough, so you want to do everything you can to make it. It's something I regret. I wish I had never done it. But it's something I've learned from."
And then, just like that, there was nothing.
"It was tough," McIntyre replied when asked how it felt to be cut. "You play all through college, you finally get somewhere and then you get cut. It was real hard to deal with. I kind of had to go home and ask myself if I wanted to play football. And then you get called into camp -- I think in Arizona they were already two or three weeks into it -- and essentially you're a camp body.
"When you're young, you don't realize it. After I was cut a third time, I kind of thought, 'All right, I'm probably not going to make it.' And you think to yourself, 'Is this what I really want to do? Do I still want to play?'"
The answer was always yes. But how?
First, a two-year stint in the Arena Football League with San Jose. Then, a two-year stint in the CFL with Hamilton. That's how.
• • •
Garrett McIntyre's dream was always to play in the NFL -- and it was during the offseason after his first year in the AFL that McIntyre realized just how badly he wanted it.
To supplement his income -- his father worked in construction and built houses -- McIntyre decided to latch on with a concrete and foundation crew.
His first day, he said, he worked 14 hours in the scintillating Lake Tahoe sun. He thinks he lost six or seven pounds.
"I actually went home and said, 'I quit,'" said McIntyre, who stands 6-3 and weighs 255 pounds.
A couple weeks later, McIntyre went back. He worked for another month. That was it.
"I learned a lot. I was pouring and brick-laying by the end," McIntyre said. "But it didn't take me long to realize that I loved football a lot more than pouring concrete."
The 50 Greatest Jets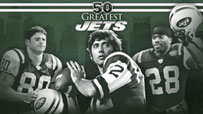 Drawn from more than five decades of history, ESPN New York presents its 50 Greatest Jets. Top 50

Rank 'EmWhen McIntyre began his AFL career in 2007, he figured he'd be better than everyone else. He was wrong. So he learned to be modest. He learned to work hard. He became content collecting a paycheck -- albeit not a seven-figure one -- playing the game he loved.
In 2010, McIntyre finished with eight sacks, tied for fifth in the CFL, and the following summer, the Jets came calling with an opportunity for him to make the team's roster out of training camp.
"I knew training camp was going to be a grind," said McIntyre, who to this day considers himself a "grinder." "I also knew it was going to be my last go at it. ... I had about seven months in the offseason to train because of the lockout. I figured, 'I'm going to give it everything I've got with this last shot.'"
Early on, McIntyre said he was nervous. The Jets were playing him on special teams, unfamiliar territory. But he kept grinding, stayed healthy and amassed nine tackles and two sacks during the preseason.
"One thing we told him after we watched him on tape is like, 'Man, we love this guy.' He played like a Jet [with] a relentless motor. I just loved the way he played," said Ryan, who lived in Toronto for eight years, but claimed he didn't know their anthem ("I can't sing the national anthem in Canada or anything, but I know they're glorious and free, I think.").
"I remember when I was on the phone with him, we talked about, 'Hey, look you're going to come in here. From day one, you'll be lined up as a second [linebacker]. You'll be running with the two's, so it will be your job to lose,' and he never lost it. I was true to my word. [GM] Mike Tannenbaum was true to his word and this young man was true to his in the way that he guaranteed us that he would perform, and that's what happened."
The Jets had to pare their final roster down to 53 by 6 p.m. on Sept. 3. The deadline came and went. So did 26 cuts. McIntyre never got a call. He wasn't among them. Still, he was concerned he might not last that long. After all, there are typically a lot of roster moves made after cut day.
"I knew that guys get moved around that first week," McIntyre said. "It wasn't until coach [Mike] Pettine came up to me and said, 'Hey, I just want to let you know that you're not going to be one of those guys that gets moved around. Congratulations.'"
At that point, jubilation set in. He immediately called his girlfriend and his parents.
"It was a dream come true," McIntyre said. "Words can't even describe it. It's just a long road that kind of paid off."
Since then, it hasn't just been his life that's changed. His role has, too.
While he still considers himself very much a special-teamer -- McIntyre blocked two Dallas Cowboys, allowing Joe McKnight to spring free for his blocked punt which was returned for a game-changing touchdown in Week 1 -- a season-ending injury to Bryan Thomas, coupled with the struggles of Jamal Westerman, led to an opportunity for McIntyre. He received several snaps at outside linebacker against New England two weeks ago, and made his first NFL start at the position last Thursday in Denver.
McIntyre, who has recorded eight tackles in 10 games this season, said he's had the toughest time acclimating himself in coverage. He had played defensive end since high school, but now he has to drop back every once in a while.
"I try to never stop learning," McIntyre said. "In this defense, it's all about doing the little things and sticking with my techniques."
Still, he isn't taking it for granted, and treating every day as though it could be his last in the NFL.
Said Ryan: "I don't know where he is from, but he went to school at Fresno [State]. His career has had all kinds of turns, Arena League, CFL, played in Canada and all that kind of stuff, but just that resiliency he has [is impressive]. [It is] probably a similar story to James Harrison. Now, I hope we get the same result, but yes, his story is pretty impressive. [He is] a tough kid."