After an uncharacteristically poor performance that included two turnovers in the first quarter in a 45-19 loss to the Philadelphia Eagles, New York Jets wide receiver Santonio Holmes showed up to the podium for his postgame news conference in a Superman T-shirt. His performance alone, which was a so-so 40 receiving yards on four catches, might have been enough reason to pick another shirt, but then there was the taunting call.
Holmes scored on a 25-yard laser thrown by quarterback Mark Sanchez -- one of the few Jets highlights in the game -- but he let his flight-boys move morph into a Eagles touchdown dance, propping his foot up on the ball and flapping his arms. The Jets were down 18 points at the time and the ensuing taunting call cost the Jets 15 yards on the kickoff.
Yet, there was the Superman logo on his chest.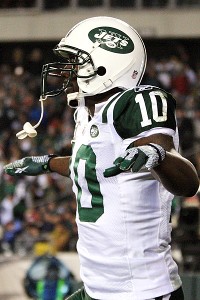 Rob Christy/US Presswire
Santonio Holmes' taunting antics cost the Jets 15 yards.Tone Time had become tone deaf.
The Jets' captain was clearly in a right-thinking frame of mind afterward, and clearly got some good advice on taking responsibility for a costly lapse in judgement.
"Just being a vet you can't do silly things like that," Holmes said. "[It] cost our team 15 yards on special teams, giving those guys field position the way that they've been playing. I just can't do that."
Jets coach Rex Ryan didn't mention the taunting call, but he didn't shy away from saying he wasn't happy with the way Holmes played.
"Yeah, obviously I'm disappointed," Ryan said. "I mean, when your best player turns the ball over twice, directly, I mean, that's a disappointment. But that's kind of the way the day was. We all can look in the mirror and find fault."
In the past, Holmes has been a player who gets better as the situation gets more dire. In that sense, the Eagles' loss was an uncharacteristic game for him. But the game got away from the Jets so quickly there was never a clutch occasion for Holmes to rise to.
"He's one of our best players and he never plays like this," Sanchez said. "So that stuff happens to everybody and he'll bounce back and he's a hell of a player so we're not worried about it."
And the rest of the receiving corps struggled as well. Plaxico Burress caught just one of three passes sent his way, although his catch was a circus grab in the end zone that was declared a 9-yard touchdown upon review. Reliable outlet tight end Dustin Keller, who caught three-of-six passes for 73 yards, including a 41-yarder, led all Jets receivers on a day Sanchez was sacked four times.
"It was tough today, man," Holmes said. "Turning around and having to see your quarterback laying on the ground, not a good feeling when you're a wide receiver and you expect passes to be thrown to you. We just got to do a better job protecting our quarterback. Got to do a better job catching the football, myself included. We've just got to play better football. We've got to play like Jets. If we want to go to the Super Bowl we got to play a lot better than what we did today."