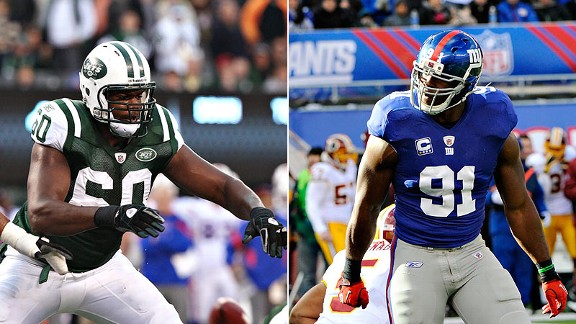 Getty Images/AP Photo
D'Brickashaw Ferguson and Jason Pierre-Paul will get up close and personal on Christmas Eve.D'Brickashaw Ferguson has his work cut out for him. The Jets left tackle will be getting to know Giants defensive end Jason Pierre-Paul, who had 16 tackles in his team's 23-10 loss to the Redskins last week and has 13.5 sacks this season.
"When you look at it, it's the No. 1 thing on our offense, the pass rush that the Giants have," Jets coach Rex Ryan said. "Obviously when you have those kind of end guys with Pierre-Paul and [Justin] Tuck and all those guys and [Chris] Canty, that's a big, physical group that can really rush the passer. So that's going to be a huge matchup right there."
Huge. The 6-6, 310-pound offensive lineman will match up against the 6-5, 278-pound defensive lineman who has turned heads this year, both in his style of play and on sheer impact.
"I think he just takes advantage of opportunities given to him," Ferguson said. "He has a lot of talent. Every year, there's always one guy or a couple of guys that really have showed themselves to be improved, and I think he's just really taken advantage of his [opportunities]."
Right guard Brandon Moore said this is another tough matchup for an offensive line that gave up four sacks in a loss to the Eagles, when defensive pressure re-injured a pinched nerve in quarterback Mark Sanchez's neck.
"Another good pass rushing team," Moore said. "[They] create pressure with the front four. Across the board, Tuck, I don't know about Osi [Umenyiora], if he's out or not, but inside, especially on nickel downs, third downs, they've got guys, end-type guys that come down on the sides, so it's definitely going to be a challenge."
Ferguson was raised in Freeport, Long Island, so he understands what the local rivalry means to people in New York and New Jersey. He wouldn't get into which team he rooted for as a kid, but he did say it should be a good atmosphere at MetLife Stadium on Christmas Eve.
"I hope to see Santa Claus in the crowd a couple times," Ferguson said. "I just hope that everybody really gets caught up in the game. It's a big game for us and them and sort of an important day, so hopefully it's a good game."
Although technically it isn't a playoff elimination game for either team, or a win-and-in game either, the Jets are looking at it as a game they need to have. Ryan has been talking big, as he sometimes does when there is a lot of hype surrounding a matchup.
"We have to win on Saturday," Ferguson said. "We just have to win. It's important to us, we have to win and I think Rex's passion really shows that passion and magnifies the importance of this game."
Does Ryan's talk put attention on him, alleviating pressure on his players?
"I don't know, I see a lot of media in here asking us a lot of questions so I'd say no it doesn't," Ferguson said. "I think he has a great personality and that's just who he is and I respect that, we respect that."