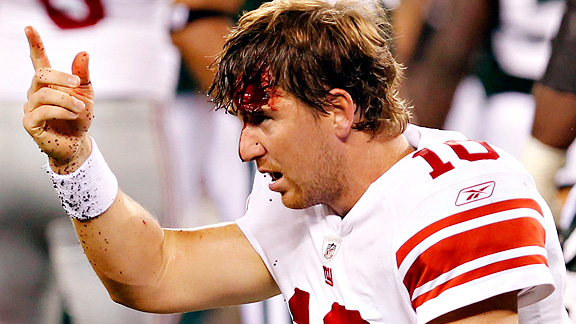 Tim Farrell/US Presswire
The Jets rocked Eli Manning's world on Aug. 16, 2010.Each week, the Jets' defensive playbook has a different picture on the cover. The coaches pick out something appropriate.
This week, it's a shot of Giants QB Eli Manning, but not just any shot. It's that memorable picture from the 2010 preseason game, according to the Daily News and Star-Ledger -- the one where he gets blasted and bloodied.
What, you expected a mundane picture from last summer's preseason game?
In 2010, Manning was creamed by LB Calvin Pace and his helmet came flying off. He was jarred forward and clipped by Jim Leonhard's helmet, opening a huge gash on his forehead. There was blood everywhere and Manning had to leave the game.
Naturally, the Jets would like to hit him some time Saturday.
"We just have to make him uncomfortable," Pace told reporters. "He's just like his brother (Peyton). You let him sit back there, clean, he's the greatest ever. But if you get him to move around, get some hands in his face, it puts a little more challenge on him."