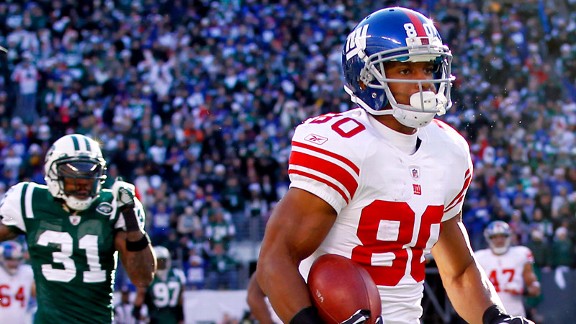 Andrew Mills/US Presswire
The Giants swiped the momentum on Victor Cruz's 99-yard touchdown.EAST RUTHERFORD, N.J. -- Darrelle Revis had said he didn't know who Giants wide receiver Victor Cruz was last week. It the Jets cornerback's way of issuing a slight dismissal in the back-and-forth leading up to a game with real postseason stakes, not just the manufactured fluff of New York pride.
The Jets didn't have Revis line up across from Cruz much during their 29-14 loss to the Giants on Saturday, but it doesn't matter.
Revis and everyone else in green surely knows Cruz by now.
He's the receiver who gashed the Jets for a 99-yard touchdown, giving the Giants a lead they never gave up and eventually setting off chants of "Gi-ants Sta-dium!" at MetLife Stadium as both sets of hometown fans filed out early to get home in time for Christmas Eve dinner.
The Jets were left to wrestle with what a compact, young and talkative receiver could mean to their postseason chances. "He backed up every word he said this week," Jets running back LaDainian Tomlinson said of Cruz.
Even Revis, who gave Cruz his due, was left to look back at the first two seasons of the Rex Ryan era, when the Jets seemed to rise to the occasion when their backs were to the wall.
"We've got to get back to playing great football like we did in the past," Revis said. "The two AFC championship berths, we got to get back to that."
Instead, the road to the playoffs looks as clear as an NFL parking lot after a day of tailgating.
The Jets will need losses from the Bengals, the Titans and either the Raiders or Broncos in order to reach the playoffs. That's a lot of help, and although the Jets reached the 2009 postseason with help, linebacker Bart Scott said they can't always expect that to work.
"You can't keep playing Russian Roulette," Scott said. "When you keep playing that way and not taking care of business, that's what you have to deal with."
And even if they can get there, will they be strong enough to do anything?
"Other teams are getting better by the minute, so we better figure it out quick," Scott said.
Kyle Wilson was the Jets cornerback who initially missed Cruz as he took a short pass from Eli Manning at the 10 yard-line. Antonio Cromartie pulled off of his man to help, but Cruz made a quick step to elude both corners.
"I just anticipated him cutting back in. Still, I've got to make that," said Wilson, who was often matched up with the slot receiver in coverage. He added there was "some miscommunication on who was going to end up where."
Safety Eric Smith tried to catch up, but Cruz hurdled as Smith lunged, and Donald Strickland and Brodney Pool followed as Cruz raced into the end zone for a 10-7 lead with 2:12 left in the second quarter.
"They saw that we were rolling the coverage the other way and they just made a good call right there," Pool said.
Jets coach Rex Ryan told the team in the locker room that it was just one play and they should shake it off. "If we tackle, they probably don't score in the first half," Smith said.
But the second half didn't get much better. Cruz had a 36-yard catch with 1:12 left in the third quarter, and there was little offense generated by quarterback Mark Sanchez and his crew.
"This is a team sport and we've been struggling as a team the whole year," Revis said. "It's been up and down. The offense may show up one week, the next week the defense may show up, the week after that special teams may show up. It's been really rough this year for us."
And Christmas Eve didn't go the way the defense hoped it would.
"We had five different ways to win the game there in the end," Scott said. "and we figured out a way to lose it."