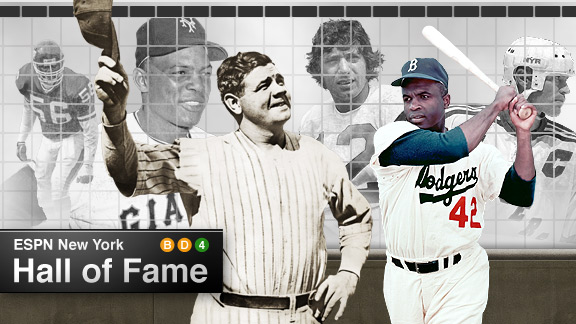 ESPN.com illustration
Vote: Pick the ESPN New York Hall of Fame class »
In honor of ESPN New York's inaugural Hall of Fame ballot, here's my top five Jets:
1. Joe Namath, quarterback: More than 40 years after leading the Jets to their only Super Bowl, Namath remains the franchise's most recognizable figure. His career stats weren't exceptional (more interceptions than touchdowns), partly because of injuries, but experts say he was one of the best pure passers ever. The stunning win over the Colts in Super Bowl III was one of the most significant games in history. Namath guaranteed a victory, creating his legend. There have been many Namath wannabes over the years, but there's only one Broadway Joe. He was inducted into the Pro Football Hall of Fame in 1985.
Darryl Norenberg/US Presswire
Joe Namath is among the New York Hall of Fame finalists: Top 20

• Hall of Fame video

2. Don Maynard, wide receiver: If you're talking about dominating at one position, Maynard could be the best player in team history. He recorded at least 50 catches and 1,000 yards in five seasons (remember, they played 14 games in those days), once averaging 100 yards per game. He was named to the AFL's all-time team and was inducted into the Hall of Fame in 1987. Maynard played in two of the most important games in history: the 1958 NFL Championship Game (as a member of the Giants) and Super Bowl III.
3. Curtis Martin, running back: The fourth-leading rusher in NFL history was a Hall of Fame finalist in his first year of eligibility, which bodes well for his chances of reaching Canton in 2012. Martin was the heart and soul of the Jets from 1998 to 2005, capped by the NFL rushing title in 2004. Never known as a flashy runner, Martin's trademark was his toughness and consistency. He rushed for at least 1,000 yards in each of his first 10 seasons, the first three with the Patriots. It's no accident that the Jets-Patriots rivalry tilted the Jets' way when Martin changed teams.
4. Joe Klecko, defensive tackle: Few will argue that Klecko is the greatest defensive player in Jets history. He made the Pro Bowl at three different defensive-line positions -- nose tackle, tackle and end. He's best remembered as a member of the vaunted "New York Sack Exchange," the front four that terrorized quarterbacks in the early 1980s. He once recorded 20.5 sacks in a season -- before sacks became an official NFL stat -- ridiculous for an interior lineman. Klecko, Namath and Maynard are the only players in franchise history to have their numbers retired.
5. Winston Hill, offensive tackle. He's perhaps the most underappreciated player in Jets history. Hill played left tackle from 1963 to 1976, protecting Namath's blind side and dominating as a run-blocker. Hill was a four-time AFL all-star and was named four times to the Pro Bowl. He was known for his toughness, once starting 174 consecutive games. Only four players in team history have appeared in more games than Hill, who, curiously, never has been nominated for the Hall of Fame.