It looked like the old Landry Fields was back at Madison Square Garden on Tuesday night. You know, the rookie the fans loved last season because of his hustle and how he found ways to get to the basket or hit a timely jumper.
Not the one who shrunk after the Carmelo Anthony trade and evaporated in the playoffs. Not the Landry Fields who seemed like a question mark to even remain in the starting lineup.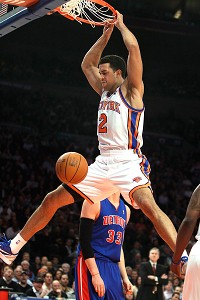 AP Photo/Kathy Willens
Landry Fields helped the struggling Knicks slam the Pistons.
Fields put the ball in the basket Tuesday, something the Knicks have so desperately needed, and gave New York a boost on the defensive end as well. The second-year guard scored 18 points, shooting 4-for-6 from 3-point range, with five rebounds and five steals as the Knicks ended a three-game losing streak by beating up on the lowly Detroit Pistons, 113-86.
"The biggest thing was his five steals," head coach Mike D'Antoni said. "I thought his defense was very good. You know he's athletic as heck. He's 6-8, he can run the floor and the bonus [is] his 4-for-6 from 3s. That was probably the first three he's hit in about a month-and-a-half. Last year he was hitting all those and I think he will again."
A month-and-a-half? OK, that's not quite true. Fields went 2-for-5 from behind the arc last Friday in a road loss to Miami. In fact, Fields has now scored double figures in seven of his last eight games. He is averaging 13.5 points during the stretch, which includes going scoreless against Houston on Saturday.
But before that stretch, Fields appeared almost non-existent in the offense and when he was noticeable, it was because he was struggling. D'Antoni said his woes stemmed from a shaken confidence. Fields struggled after Anthony's arrival last season and got lost this season on offense, standing in the corner while the Knicks continued to pound the ball to Anthony for isolation plays.
Fields' emergence is part increased ball movement and part him locating his swagger.
"I think it's just a confidence thing and understanding, with this team, where I can be most successful," said Fields, who hit all of his four 3-pointers in the first quarter. "I think I figured it out a little bit. It's still a growing process and always will be, so hopefully it carries over to the next game."
It will need to. The Knicks open a brutal stretch of three straight games, starting with Chicago on Thursday at home, then road games in Boston and New Jersey.
"It was going in tonight," Fields said of the Knicks' offense that shot 60 percent. "We wanted to make a statement going into the next three games, and we did that."
You can follow Christopher Hunt on Twitter.