Which point guard hurt the Knicks more on Thursday night: Derrick Rose or Toney Douglas?
Rose scored 32 points and had a game-high 13 assists, going off for 15 points in the pivotal fourth quarter. So you certainly can make a strong argument for the 2010-11 MVP.
But Douglas hurt the Knicks nearly as much as Rose did, giving them next to nothing in 15 minutes on the floor.
He led a second unit that was outscored 25-6 by Chicago, turned the ball over three times, missed five of seven shots and was routinely torched by Rose.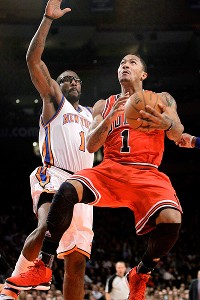 AP Photo/Kathy Willens
Derrick Rose gave the Knicks a good look at what they sorely lack.
"He struggled a bit tonight," Mike D'Antoni said after his team lost for the 10th time in 12 games.
It's not fair to put Thursday's loss all on Douglas. Iman Shumpert had his hands full with Rose and had four turnovers in an otherwise solid game (10 points, eight assists).
And of course, the Knicks (8-14) had a chance to win with 12 seconds to play but Amare Stoudemire missed an open 3.
Still, it's hard to ignore the discrepancy at point guard on the Garden floor Thursday night.
Between Rose and C.J. Watson, Bulls points guards had 44 points and 13 assists (all from Rose) and four turnovers. Knicks point guards combined for 16 points, 10 assists and seven turnovers.
"We've just got to do a better job of getting the ball down and not turning it over. Without a doubt," D'Antoni said.
The Knicks turned it over 11 times in the second quarter, leading to 13 Chicago points.
Their worst stretch came late in the second quarter. New York trailed by four with 3:30 to play before halftime. Four turnovers and three missed shots later, the Knicks were down 13 -- the Bulls' largest lead of the night.
"Other than that bad flurry, we did OK," D'Antoni said.
You can make an argument that that bad flurry buried the Knicks. And it's bad flurries like that one -- which could have been avoided if New York had a capable point guard on the floor -- that've been killing the Knicks all season.
New York entered play Thursday night averaging 18.9 assists per game (23rd in the NBA) and 17 turnovers (30th in the league).
It's clear that they haven't found a suitable replacement for Chauncey Billups at the point. Billups was axed via the amnesty clause to create cap space to acquire Tyson Chandler.
The Knicks were hoping to get by with Douglas at point guard and Carmelo Anthony serving as a point forward of sorts. So far, that hasn't worked out. Anthony had four turnovers on Thursday and Douglas had three in just 15 minutes.
The Knicks are hoping that 32-year-old veteran Baron Davis can cure all of their problems at the point. But he hasn't been healthy enough to take the floor.
"We're not going to put him out there until he's at least 100 percent," D'Antoni said.
Until then, the Knicks will be a team without a point guard.
You can follow Ian Begley on Twitter.