When Carmelo Anthony sat down in front of reporters for his postgame interview, he wanted to try to keep things in perspective. It's true that his Knicks played one of their best offensive games. They were right in it until the end before they lost by three, 105-102, to the Chicago Bulls, who made the Eastern Conference final last season.
He also said it was easy to pinpoint the "little things" that could have cost them the game -- things like coughing up 11 of their 14 total turnovers in the second quarter or having their bench outscored 25-6.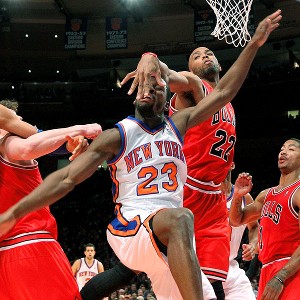 Anthony Gruppuso/US Presswire
Hey, has anybody seen Toney Douglas and the Knicks' bench?
"You know, the little, small stuff," he said. "You can pinpoint that, but for the most part we played extremely hard tonight. We gotta pat ourselves on the back for something."
Even if the Knicks can a reason for back slapping while losing for the 10th time in 12 games, the disparity in bench production is alarming. Coach Mike D'Antoni will need to rely on his bench, especially since the team is playing three straight nights and headed into a matchup with Boston on Friday.
The New York bench shot a combined 2-for-13, grabbed seven rebounds and committed five turnovers. Toney Douglas scored all six of the team's bench points. On the other hand, Chicago got 12 points from C.J. Watson -- 10 in the second quarter -- and rookie guard Jimmy Butler provided a lift when he drained a jumper that put Chicago ahead 101-96 with 1:07 remaining.
Kyle Korver continued his strong play with Loul Deng out of the lineup, scoring 16 points and shooting 3-for-5 from 3-point range.
Meanwhile, Jared Jeffries, Bill Walker and Renaldo Balkman missed all of their combined six shots. Douglas had three turnovers and two personal fouls in 15 minutes.
"We're just going to have to make shots," Walker said.
It's tough to keep the reserves on the court if they can't score. Tyson Chandler played the least amount of minutes (36) of the Knicks' starters. Landry Fields played 42 minutes and Amare Stoudemire logged 41. The shortened season and the packed schedule will not allow D'Antoni to keep is starters on the floor for 40-plus minutes for three straight games. Heavy minutes could easily be one of the reasons that Anthony decided to sit two games hoping to give his ailing wrist and ankle a break.
"We're going to have to get those guys some rest," Walker said.
The Knicks have been searching from some punch off the bench all season. Walker almost single-handedly kept New York in the game against Miami last Friday with his seven 3-pointers, but he only shot once Thursday night.
"We just need a little more production off the bench," Stoudemire said. "If we can get those guys to come in, that second unit, to play a little bit harder for us, then I think we'll be OK."
You can follow Christopher Hunt on Twitter.