NEW YORK – Jared Jeffries is an intangibles guy. He is not on the court for his shooting ability. But whenever Jeffries misses a point-blank layup or even squares up to shoot a jumper, the Madison Square Garden crowd starts to groan.
The Garden has clearly fallen in love with Jeremy Lin, the out-of-nowhere point guard who captivated New York again, this time with 28 points and 8 assists while the undermanned Knicks earned their second straight win, beating Utah, 99-88. But there's a love/hate relationship between Jeffries and Knicks fans. Knicks coach Mike D'Antoni, for one, doesn't understand it.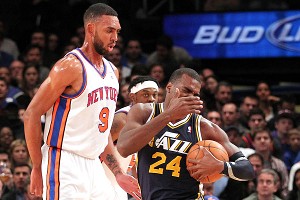 Anthony Gruppuso/US Presswire
"Anybody who boos Jared Jeffries has got to re-examine their life a little bit," said Mike D'Antoni.
"Indulge me for one second," D'Antoni asked reporters at the postgame press conference before delivering the best recommendation that any coach could give a player. "Anybody who boos Jared Jeffries has got to re-examine their life a little bit. I am sorry to have to say this. I love our fans. I like MSG, the arena. But here's a guy who came back to us, minimum contract, he could have gone to a lot of other teams. He plays as hard as anybody could possibly ever play, with injuries, everything you ask him (to do). He takes every charge, every dirty play, every rebound. He works hard every second. And there are people that look at that and go, 'I think I'll boo him.' I have a hard time believing that.
"It's like, oh he missed that (shot). I understand the frustration. I understand that. But you boo what is good about America? To me it's like, are you kidding me? Are you serious? To me, that's not good. I love him anyway. He played unbelievable."
Jeffries went 3 of 9 from the field for 13 points but frustrated the crowd by missing open shots or shots close to the basket. He also collected 8 rebounds, drew 5 offensive fouls with 2 steals and a blocked shot. Jeffries kept a ton of loose balls in play on a night when Amare Stoudemire missed the game due to the death of his brother, Carmelo Anthony suffered a groin injury and played just five minutes and Tyson Chandler played 11 minutes through three quarters because of foul trouble.
D'Antoni said the forward played his best game all season when he tallied 9 points and 10 boards in a victory over New Jersey on Saturday. On Monday night though, Jeffries never let the crowd affect him and in fact, seemed to understand the fans' frustration.
"I think that a lot of it is from mistakes I've made in the past and mistakes I make now," he said. "But I think I always go out there and play as hard as I can. I play with a lot of effort, a lot of energy and sometimes fans love me; sometimes they hate me. That's not going to affect how much I love this city and how much I love playing at the Garden and wanting to be part of a winning team here."
He also backed D'Antoni, who has also felt the wrath of angry Knicks fans.
"Me and Coach have a great relationship and I'll die for him," Jeffries said. "That's why I take charges. That's why I'll dive out there, because he's the best coach in the NBA. There's no coach in the NBA that's a better players' coach and you see that with Jeremy Lin. No other coach in the league would have given Jeremy the opportunity that he has now. No other coach in the league would give me this chance, Bill Walker, Landry Fields, Steve Novak. The way we played tonight is a tribute to what Coach is able to do in getting the best out of his players."
Novak, who came off the bench for a season-high 19 points, said the way the home crowd reacts to Jeffries has become a joke on the bench. He said players like Jeffries, Chandler and Fields are "huge glue guys for us."
Chandler laughed but said he doesn't get the boos either.
"I don't understand why the crowd gets on him so much every single time he touches the ball. He brings so much to this team. His drives, his dives, he understands his limitations, the charges that he takes. He has to be up there in the league in the number of charges he's taken. He does so much for us."
You can follow Christopher Hunt on Twitter.