There are no surprises at No. 1 and No. 2 in ESPN NBA Insider's latest Top 50 Rookie Rankings. That would be Blake Griffin and John Wall, who should be flip-flopping with each other at those spots all season long.
But at No. 3, there is a surprise to many outside of the New York area: Landry Fields.
Fields was selected 39th in the 2010 draft, and second-round picks aren't supposed to start, especially on a regular basis. But Fields has more than earned that opportunity for his heads-up playmaking and shooting efficiency. He's averaging 10.7 points per game and shooting 55.8 percent from the field -- 10th-best in the league and not only that, it's the highest of any guard (Tony Parker is second at 54.8 FG percent).
After the Knicks beat the Bobcats 110-107 on Tuesday, ESPNNewYork.com caught up with Fields to find out more about his stunning success, adjustment to life in the Big Apple and involvement with the Garden of Dreams Foundation.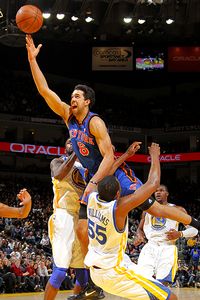 Rocky Widner/Getty Images
Landry Fields posted nine points and eight rebounds in his Nov. 19 return to the Bay Area, where he spent four years at Stanford.
What was your homecoming experience like back in California this past weekend?
It was great. It's been a dream of mine to play in front of my friends and family, so to get back there and do that was something special. I saw a couple of signs [in the stands]. I was at the Stanford game. They were just like, "Landry Fields is in the building." It was definitely a cool experience.
From getting three straight wins on the road to one last night at the Garden, what's been the big difference for you guys?
We've been in the lab, watching film. I think we're really starting to tighten up on defense, but we still have room for improvement, which is great because if we can be successful and still improve things, that's going to be better for us. And offensively, we've been spacing the floor pretty well, getting easy buckets in transition. So it's been a lot better.
Before the game last night, you were interviewed by a high school student as part of the MSG Classroom program, a partnership between the Garden of Dreams Foundation and MSG Network, which teaches students the ins and outs of the broadcasting business. What does it mean to you to be involved with something like that?
It was cool. I've never done something like that. I'm happy -- that was a great interview. It means a lot to be in a position that I'm at to give back in some way. It's something that's really special not just to me, but my family always preaches to give back. Seeing [underprivileged] kids like this [from the Children's Aid Society] is always humbling and I'm very thankful.
What advice do you give young kids and athletes about helping them reach the same level of success you've had?
It's so cliché, but really it's academics. That's what kind of drove me in high school. I mean, I chose Stanford because I knew if basketball didn't work out, that's a great degree to fall back on. Basketball just happened to work out when I was there. If kids really stick to that first, everything else will take care of itself.
Basketball working out for you is the simplest way to put it. What you've been able to do -- going from a second-round draft pick to a rookie starter -- is unheard of. What do you credit for your rapid development?
It was just putting the time in the offseason. It started in college, because I had the dream of being in the NBA. The system that we ran at Stanford is kind of parallel to what we do now, so it was an easy transition going into Vegas [Summer League] and then preseason and then to now. It's been good. I think it can be better too.
You marvel fans, not to mention Walt Frazier during every MSG Network game broadcast, with your high basketball IQ, shooting efficiency and always being at the right place at the right time for the put-back or backdoor layup. What has helped you develop these veteran-like qualities?
I think it started my first couple of years at Stanford. I came in and I had high expectations of myself and didn't meet them. I wanted to get on the floor really badly. When I came into college, I was strictly a shooter, so I was like, "I've got to change something if I want to get there and play." With me, I was a reserve guy. I got there and was trying to make hustle plays, get the boards, score here and there. It started then and it just kind of progressed. My Stanford career really laid a great foundation from where I'm at now. Right now, I'm just trying to carry it on and learn.
Obviously being a rookie in the NBA is a challenge in itself, but you're a first-year starter for the Knicks, a team with high expectations, and playing in New York City, the media capital of the world. That's like a triple-double of challenges, but from how you've been playing, you seem to be handling everything quite well. What has helped you adjust to your new digs?
You don't really know about it until you actually go -- [Ronny Turiaf stepping in: "Half man, half amazing. Rookie-sophomore game, baby. Landry Fields all day, every day. Stanford, education, four-year kid. Thank you."] It's just something you go through and you kind of learn as you go. I keep learning on the fly. It's been good so far. It's kind of been what everybody has told me it's going to be.
How have your teammates been there for you?
They've been great. A guy right there, Ronny Turiaf, he's been always in my ear. I love his game. He's one of my favorite players on this team just because he plays on nothing but heart. When I see a guy like that, how emotional he is, it makes me emotional. I want to get out there and help just like him. Having guys like that has been great. It's not just Ronny; it's everybody. And it's not even just the vets; people have all been really positive with me. It's helped.
And your fans on Twitter?
Yeah (laughs). I always appreciate Twitter fans too. I always try to write back, but it's so tough. I just give them the general answer.
What's the best time to reach you on Twitter?
Whenever I'm not playing (laughs). I can't get on my phone.
What was your welcome-to-the-NBA moment?
It was actually in preseason. We were playing against [Armani Jeans] Milano [in Italy] and I heard my name called, and you can just see the jittering from me getting up from the bench (laughs). When I got out there, I made a steal and went to the other end and got fouled. I should have made the layup. Just getting out there and knowing that I could do something like that right away, that was an instant confidence booster. I think that was kind of the moment. Also, the next game against Minnesota in France, I had a pretty good game. I was like, "Hey, I can be here. I can do this."
I think for fans it was the tip-dunk you had against Milwaukee.
That was another big moment. I was excited for that one.
Any surprises about life in the NBA?
The grind every day. Sometimes you're just like, "What day is it?"
Speaking of the grind, have you had to go through any rookie hazing yet?
No, let's keep that on the low. They might hear me and be like, "Oh, we need to give him more duties." They've been great. I've carried bags here and there, passing out practice gear.
Real quick, where are you favorite spots in the city so far?
Del Frisco's. Great steak. It's right by Radio City Music Hall. They just opened up a Buffalo Wild Wings by my house, so that could be dangerous. I just stick with the Buffalo sauce. I keep it real. It's one of my favorite foods.
You can follow Jared Zwerling on Twitter.