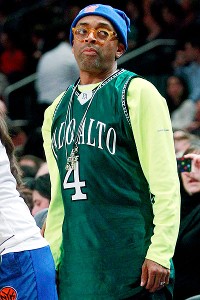 AP Photo/Frank Franklin II
Spike Lee wore Jeremy Lin's high school jersey on Friday.NEW YORK -- Jeremy Lin received the ultimate nod from the most famous Knicks fan there is Friday when Spike Lee sat courtside wearing Lin's high school jersey.
Lin's high school coach, Peter Diepenbrock, said in a radio interview that he planned on bringing Lin's green Palo Alto High jersey from California to Madison Square Garden and hoped to get Lee to wear it.
The Brooklyn-born movie director heard the news and reached out of the coach to make it happen.
Reports said that Diepenbrock isn't scheduled to make it to a Knicks game until Sunday but had another former player, Chris Bobel, who arrived in New York on Friday, deliver Lin's No. 4 jersey to Lee's representatives.