Jason Kidd has bought into the "Linsanity" -- and the future Hall of Fame point guard says Jeremy Lin reminds him a little of Steve Nash.
"He's taken [Mike] D'Antoni's system, and he looks a little bit like Steve Nash out there," Kidd said Sunday afternoon after Lin torched the Dallas Mavericks for a team-high 28 points and career-highs of 14 assists and five steals in the New York Knicks' 104-97 victory at Madison Square Garden.
"Nash has had a lot of success running that system, as have a lot of point guards. I got to go through that system in the Olympics, and it's a point guard's dream."
Lin now has three 20-point, 10-assist performances, and eight 20-point efforts in his last nine games.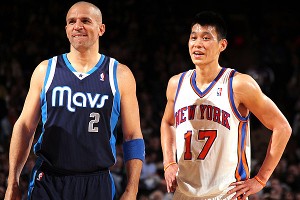 Nathaniel S. Butler/NBAE/Getty Images
Jeremy Lin made Jason Kidd a believer with Sunday afternoon's performance."Why not? Why not? I hope he does," Kidd replied when asked if thinks Lin can sustain his prolific play. "I think it's a great story, an opportunity comes ... last year we had the same thing with guys getting the opportunity to play and we won a championship. And so why not have the same thing for him? Maybe not a championship this year, but why not be successful and see what happens down the line?"
Lin was raised in Palo Alto, Calif., and grew up idolizing Kidd, who hails from nearby Oakland.
"We develop some of the best," Kidd said.
After the final buzzer sounded, the two embraced and shared a moment on the court.
Remember, it was Oakland native Gary Payton that essentially passed the torch to Kidd -- and now he may be passing it on to Lin.
"He's a great kid. He's very humble, and he plays extremely hard, whether he makes a mistake or makes a fantastic play," Kidd said of Lin, who has overcome 52 turnovers in his last nine games to lead the Knicks to an 8-1 record. "He plays the game the right way, and as a point guard, that's what you love to see."
"He was telling me coming down the stretch you're going to make a 3, and unfortunately I didn't do that [Sunday]," said Kidd, who finished with eight points, five rebounds and four assists on 3-for-9 shooting -- including 2-for-8 from downtown. "The ones I did miss, he thought I made, so I think he was softening me up."
The Mavericks, who led by as many as 12, went up 73-62 with 3:05 remaining in the third quarter, but the Knicks closed the period on a 10-2 run capped by a steal and slam by Lin to trail by just three heading into the decisive stanza.
Jason Terry's 3-pointer with 3:26 left got Dallas within 95-93, but Lin ignited the crowd by draining a triple on the other end 29 seconds later, and the Mavericks never got any closer.
"We tried to put some pressure on him [with double teams] to make him feel uncomfortable," Kidd said. "the game was in our hands to finish them off but we didn't do it."
Linsanity on ESPNNewYork.com

When it comes to the Knicks' newest sensation, ESPN New York is all-Lin.
Lin: Game By Game

Latest

News: Melo likes Lin

Lin on Melo

More: Obama a fan

Floyd? No

Video: FanSpeak

Linsane

Said Shawn Marion, who got the assignment on many possessions to guard Lin: "He's a feisty little thing. I give him credit, he plays hard. You have to take certain things away from him."
At times they did, but it wasn't enough.
Kidd said Lin has no choice but to go out there and make it happen on the fly.
"There's so many games, no practices, it's just go out there and play," Kidd said. "I'm happy for him. I think we saw it in football, and now we're seeing it in basketball."
Lin was actually with the Mavericks' summer league team in 2010, and it was with them in Las Vegas in July when he went toe-to-toe with John Wall and earned some serious respect -- just no contract.
"They all thought that he had talent," Kidd said. "We were just a little loaded at the guard position, and I thought he played well in Golden State, but they were loaded there too, and now getting this opportunity here with the right guys, it fits. So it's awesome."
Kidd has always had the utmost respect for D'Antoni -- known through the NBA for his offensive genius.
Yet until he found a diamond in the rough in Lin, the Knicks coach's dismissal seemed imminent.
"In his system, he needs [a point guard], and he has one," said Kidd, who passed Michael Jordan for second place on the all-time steals list. "I think in his system that's where it starts. Nash is a two-time MVP in that system. He has won and they're rolling. They'll make the playoffs and they'll scare some teams if not beat some teams."