NEW YORK -- One of the greatest NBA coaches ever, Pat Riley, and two of the best players in the game today, LeBron James and Dwyane Wade, still couldn't convince Baron Davis to sign with the Heat last December.
Davis already knew where he wanted to sign for the veteran's minimum: the New York Knicks.
"I spoke to Pat Riley. D-Wade, LeBron, they texted me and asked me what was up," Davis said. "But I pretty much knew I wanted to come here and play in the Garden and play in front of these fans and play for this organization. I always wanted to play here, so this was really like my first choice."
Mike D'Antoni is glad to have him. After the Knicks' 99-82 win over the Hawks Wednesday night at the arena Davis dreamed of playing in, Madison Square Garden, the head coach said he's optimistic Davis will be able to maintain the offensive flow Jeremy Lin will establish from the opening tip.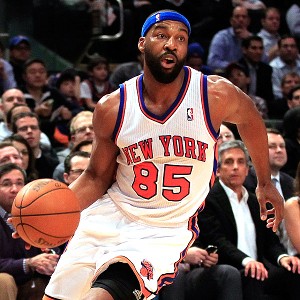 Chris Trotman/Getty Images
Baron Davis ended up exactly where he always wanted to be."[Baron's] getting there," D'Antoni said. "He hasn't played for a year. He had to lay in his bed for about three months with a bad back ... I can see a little stuff that's good and you see where he's rusty. But he's going to be good. It's going to be a nice little tandem that we having coming in. Nothing should drop off, and that's not normal around the NBA to have two guys that can play the way they're playing."
After making his season debut Monday night against the Nets, scoring only three points and dishing out one assist, Davis said he wanted to bring more energy and excitement to the team on Wednesday. Though he finished with five turnovers -- a number that should decrease as he gets more repetitions -- he had six assists and two steals. After the win, J.R. Smith and Steve Novak said they felt Davis' presence more on the court, which the veteran point guard was going for.
"I thought the first game, I was a little tentative and I didn't have any presence," Davis said. "I was kind of holding back. A couple friends called me and just told me, 'Hey, don't hold back. Push yourself.' And that's what I did tonight, and that's what I'm going to continue to do."
Davis' focus is to be a pass-first point guard and make plays. He said he doesn't mind coming off the bench -- "that's kind of fun for me," he said -- and he's hopeful he'll take some pressure off Lin, who's been carrying the team's load since his sudden rise. While Carmelo Anthony has returned to play some point-forward, Davis' role is arguably more critical because Melo, along with Amare Stoudemire and Tyson Chandler, need a point guard to create off screens and develop the necessary spacing they need to operate and score.
"I came off the bench in Cleveland and I came off the bench with the Clippers a couple of times when I was coming back from injuries," Davis said. "So that doesn't bother me. I just want to get out there and I want to make a difference."
Davis is "very excited" about the Knicks' matchup against the Heat in Miami Thursday night, but he's even more excited about the two days after the All-Star break. The Knicks have no games and Davis said those practice days will help him get more familiar with his teammates and integrated further into the offense, while improving his strength and conditioning on a personal level.
Davis said the Knicks are "talented," but the team needs time to gel. But he said once they get accustomed to each other's favorite spots on the court, as well as improve their defensive rotations and overall camaraderie, they're going to be a tough team to be beat. For Davis, he's prepared to do whatever it takes to help the Knicks win.
"It's my 13th year in the league, so I'm not fighting for anything but a championship," Davis said. "That's all that matters."
You can follow Jared Zwerling on Twitter.