MIAMI -- After the Knicks' 102-88 loss to the Heat, New York Knicks point guard Jeremy Lin was at his locker with his head down. He finished with just as many turnovers (eight) as points -- his lowest total since his sudden surge started against the Nets.
Knicks forward Carmelo Anthony, whose locker was directly across from Lin's, recognized Lin's dejection, as did the other players, and they went over to comfort him.
"We said, 'Cheer up, man,'" Anthony said in the postgame locker room. "'We have nights like this. You're going to have nights like this. We're playing against one of the best teams in the NBA, if not the best team in the NBA, and they really focused in on trying to stop you tonight. You're on the scouting report now.'"
Boy, was he ever.
Miami's pick-and-roll defense, arguably the best in the league, came after Lin on Thursday night. Over the Knicks' previous 10 games with Lin as the starting point guard, the team averaged 28 plays in the pick-and-roll per game (20 for the ball-handler, eight for the roll man).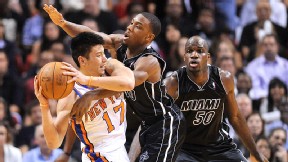 Steve Mitchell/US Presswire
Jeremy Lin will learn from Thursday's loss.On Thursday, while the Knicks were effective in the pick-and-roll (shooting 50 percent) they had fewer chances to run the play. They only connected on 5 of 10 field goals, and had four turnovers in the process. Overall, just 18 of the Knicks' offensive plays were in the pick-and-roll.
Due to the presence of Mario Chalmers, Dwyane Wade, LeBron James and Joel Anthony -- a center who can move in every direction like a crab -- Lin and backup point guard Baron Davis were suffocated on the perimeter. The Heat have a defensive system that thrives on airtight rotations and aggressively disrupting the pick-and-roll ball-handler (Lin and Davis).
"They are one of the best pick-and-roll defenders," Knicks coach Mike D'Antoni said after the game. "They come at you real quick. The first time you see it, the speed is overwhelming and I think it took [Jeremy] a while to adjust. He didn't have the legs, it looked like. He played last night, and it happens. He'll use it as a learning experience. Our whole team will. We played arguably the best team in the NBA, and it set a bar that we have to get up to."
Said Davis: "We played the best team and they hit us with their best shot."
Heat head coach Erik Spoelstra said defending the Knicks is not an easy challenge. Not only did the Heat have to key in on Lin's playmaking but they had to take away scoring opportunities from big-time threats Anthony and power forward Amare Stoudemire, and outside looks from shooters J.R. Smith and Steve Novak.
While Smith (14 points) and Novak (12 points) played well -- the biggest scoring boost off the bench for the Knicks tonight -- neither Lin nor Davis found openings to feed Chandler and Stoudemire rolling to the basket. There were also closed doors for the pick-and-pop to Anthony and Stoudemire.
"Our defensive intensity and activity was terrific," Spoelstra said. "We were active, disruptive, aggressive and playing certainly defensively how we wanted to and making plays at the other end."
Linsanity on ESPNNewYork.com

When it comes to the Knicks' newest sensation, ESPN New York is all-Lin.
Lin: Game By Game

Latest

Lin said after the game that he couldn't remember another game where it was hard just to dribble the ball. He said the Heat did a good job of forcing him left, which the book says is a weakness of his, and not letting him make the swing pass to disrupt the Heat's defensive rotations. He said the next time he faces the Heat, he'll look to make them work harder for 24 seconds and make sure his passes jump-start the Knicks' offense better and are directed exactly where they need to go.
While he was addressing a media room of around 50 reporters after the game, Lin said he wasn't going to use the back-to-back fatigue as an excuse. Instead, he gave a lot of credit to the Heat's speed and athleticism on defense. He said the next step would be to review the game tape and see where he can improve.
"They did a great job of making me uncomfortable," said Lin, who mentioned playing consistently well has been his toughest challenge recently. "We're a no-excuse team, so fatigue doesn't really matter. Everyone's tired at this point. Everyone has a 66-game schedule, so we've just got to look at film and get better. I think that's going to be exciting because this team is young in terms of players coming in and coming back. Obviously as a point guard, I have to make sure that I'm learning."
D'Antoni said the Knicks should've moved the ball better, especially to the other side of the floor. He thought the players accepted the Heat getting into them, and didn't allow James and Co. to over-commit. In other words, the Knicks allowed the Heat to set the tone defensively, forcing the Knicks where they wanted them on the court before the Knicks had time to react.
Once practice resumes Monday, D'Antoni said the team will work on throwing defenses off better with different options. D'Antoni said Lin can handle that challenge and won't let tonight's loss linger. Starting next week, when the second half of season gets underway, D'Antoni believes Lin will be back to playing at a high level, which he's been doing since being inserted into the starting lineup back on Feb. 6.
One of the biggest keys for the Knicks running a smoother offense is cutting down Lin's turnovers (he's been averaging 6.1 per game over his last 11 starts).
"[The Heat] took the challenge and they did a great job," D'Antoni said. "It's hard to be Peter Pan every day. [Lin] just had an off day and he'll go back at it. He's not daunted at all, if you ask him. We'll have this break and then he'll be attacking next Wednesday [against the Cavaliers]. That's what he's going to do. He's going to use this as a learning experience."
You can follow Jared Zwerling on Twitter.