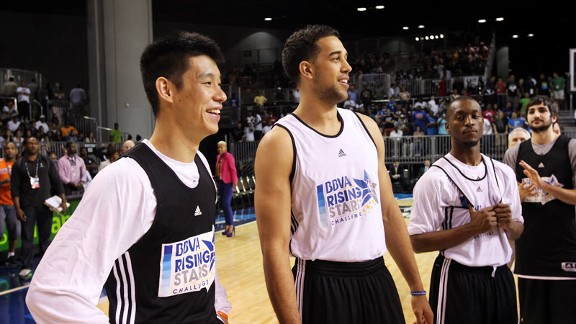 Joe Murphy/NBAE via Getty Images
Jeremy Lin, Landry Fields, Kemba Walker and Ricky Rubio at Friday's practice.Jeremy Lin and Landry Fields, the Knicks' starting backcourt, will be teammates in the Rising Stars Challenge at 9 p.m. in Orlando, Fla.
The event was formerly known as the Rookie Challenge and pitted the best second-year players against top rookies during All-Star weekend. The format is different this year: TNT analysts Shaquille O'Neal and Charles Barkley conducted a draft and built teams with a mixture of first- and second-year players.
Lin and Fields will play for Team Shaq. Nets rookie MarShon Brooks will play for Team Chuck.
Other players with ties to New York and New Jersey:
• Bobcats guard Kemba Walker of Team Shaq is a Bronx native who played for Rice High School in Harlem.
• Cavaliers guard Kyrie Irving of Team Chuck played for St. Patrick's High School in Elizabeth, N.J.
• Cavaliers forward Tristan Thompson of Team Shaq spent two years at Saint Benedict's Prep in Newark, N.J.
• Jazz forward Derrick Favors of Team Chuck was drafted by the Nets and traded to Utah in the Deron Williams blockbuster.
TEAM SHAQ
• Norris Cole, Heat
• Landry Fields, Knicks
• Blake Griffin, Clippers
• Brandon Knight, Pistons
• Jeremy Lin, Knicks
• Greg Monroe, Pistons
• Markieff Morris, Suns
• Ricky Rubio, Timberwolves
• Tristan Thompson, Cavaliers
• Kemba Walker, Bobcats
TEAM CHUCK
• Kyrie Irving, Cavaliers
• DeMarcus Cousins, Kings
• Derrick Williams, Timberwolves
• Paul George, Pacers
• MarShon Brooks, Nets
• John Wall, Wizards
• Evan Turner, 76ers
• Gordon Hayward, Jazz
• Kawhi Leonard, Spurs
• Derrick Favors, Jazz