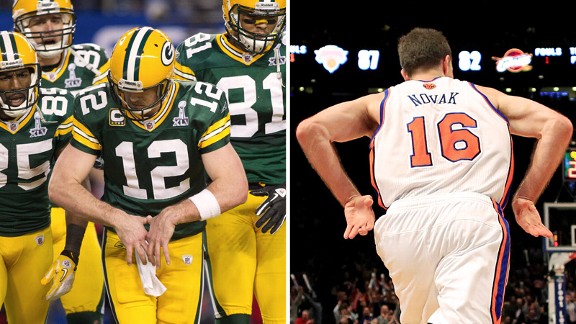 Getty Images
Steve Novak celebrated his five 3-pointers with a tribute to Aaron Rodgers.
Discount Double-Check on Aisle 3!
When Steve Novak gets going from beyond the arc, it's tough to stop him. And when the Knicks' stretch-four makes a few 3-pointers in a row, he's liable to bust out Aaron Rodgers' "title belt" celebration, which has become more famously known as the "Discount Double-Check" due to the NFL MVP's series of State Farm commercials.
And the Green Bay Packers quarterback has certainly noticed.
"Big Steve Novak fan. State Farm also encourages u to do the (belt) DDC. Steve Novak or the mayor Fred Hoiberg, pure shooter??" Rodgers tweeted on Wednesday night after Novak scored 17 points, went 5-for-8 from 3-point range and put on the invisible belt twice in the Knicks' 120-103 trouncing of the Cavaliers at the Garden.
Novak, who was born and raised in Wisconsin and attended Marquette, first Discount-Double Checked when he caught fire in the fourth quarter against the Mavericks on Feb. 19.
"I'm a huge Packers fan, I was a huge Brett Favre fan and now obviously Aaron Rodgers," Novak said. "Our team security had been trying to get me to do [the celebration] for a long time. I didn't even think about it, but it felt good."
Novak, 28, currently ranks fourth in the NBA in 3-point field goal accuracy (46.9 percent), and has hit 14 triples in his last three games. A second-round draft pick who has played with five different teams during his six-year career, Novak appears to have finally found a permanent role in New York.
If his Twitter account is any indication, Rodgers -- a California native -- is a diehard Sacramento Kings fan.
Some of his tweets Wednesday night included, "Best European center of all-time=Vlade Divac" and "I miss the kings team with vlade, cwebb, bibby, bobby j, christie, etc #gladthekingsarestaying"