GREENBURGH, N.Y. -- After Thursday's practice at the Knicks' training facility, ESPNNewYork.com asked Mike D'Antoni if Steve Novak had any unique practice routine that compared to other shooters he's coached.
"I don't know. I hear he eats a lot of cheese," D'Antoni said, smiling. "I have no idea."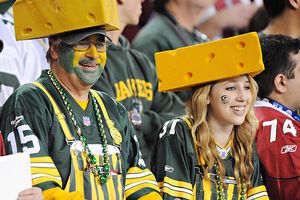 Kirby Lee/US Presswire
If Steve Novak keeps this up, you might see Cheeseheads at MSG -- as long as they're not attached to Packers fans, of course.
Novak, a Wisconsin native, has connected on 41 of 86 3-pointers (47.7 percent) since Feb. 6, including five threes Wednesday night in a 120-103 rout over the Cavaliers. After hitting consecutive 3-pointers in the third quarter, he copied Green Bay Packers quarterback Aaron Rodgers' "title belt" celebration, which has become more famously known as the "Discount Double-Check," due to the NFL MVP's series of State Farm commercials.
"I'm a huge Packers fan. I was a huge Brett Favre fan and now obviously Aaron Rodgers," said Novak, who played college ball at Marquette, which is located in Milwaukee. "Our team security had been trying to get me to do [the celebration] for a long time. I didn't even think about it, but it felt good."
After the Cavaliers game, Novak said his day-to-day preparation is dictated by the shortened season's cramped schedule. He said the added amount of games during a given week allows him to stay in rhythm more.
"I think, to be honest, and it may seem funny, but the amount of games that we're playing I feel like helps," Novak said. "Because you never go that long of a stretch without getting up or down about a great night or a down night. In like two hours, it's kind of like so what? You've got to do it again tomorrow.
"It's a what-have-you-done-for-me lately kind of thing. It's just kind of nice to know that if you miss a couple or it doesn't go your way one night, you get to play right away. So I feel like it's kind of easier to keep that groove because mentally it's easy too."
After Wednesday's win, the Knicks are now 8-1 when Novak makes at least three 3-pointers in a game. It's not a number he's going to get caught up in, but he likes the sound of it.
"I don't like thinking too much about statistics," he said. "But I think if I can make three, I guess that's good for everybody."
You can follow Jared Zwerling on Twitter.