The Knicks assigned center Jerome Jordan to their D-League affiliate, the Erie Bayhawks, on Friday.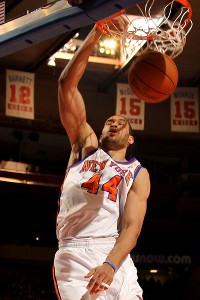 Nathaniel S. Butler/NBAE/Getty Images
Jerome Jordan
The move will allow Jordan to develop and play consistent minutes. Jordan had not played much for the Knicks (18-18), getting just 19 minutes in February.
The Knicks' roster remains at 15. They will need to have just one player inactive now. Bill Walker, missed practice on Friday with a sore left elbow, is likely to be inactive on Sunday against Boston.
The Knicks acquired Jordan in a 2010 draft-night trade with the Milwaukee Bucks for $500,000. The Bucks had drafted Jordan with the 44th pick.
Jordan, 25, spent parts of each of the last two seasons playing overseas for KK Hemofarm in Serbia before the Knicks brought him over during training camp.
He averaged 1.5 points and 1.2 rebounds in 13 games for the Knicks.
The last time he went to the D-League, in January, it was with Jeremy Lin.