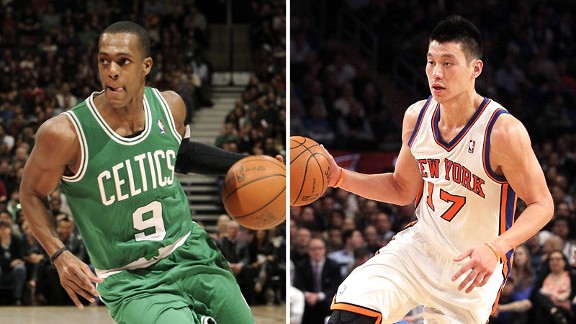 Getty Images
Rajon Rondo and Jeremy Lin will face off for the first time on Sunday.Knowing how the first two games played out this season, the edge in the Knicks Sunday matchup at the TD Garden against point guard Rajon Rondo and the Celtics should go to Jeremy Lin and the 'Bockers.
Both of those games were decided by two points. On Christmas Day at Madison Square Garden, the Knicks won 106-104 and on Feb. 3 in Boston, the Celtics won 91-89.
While the Knicks had one of the league's best closers in Carmelo Anthony, they didn't have Lin, who has made a name for himself in crunch time (a score within five points in the last five minutes of the game). Now the Knicks have two down-the-stretch options to go to, not to mention, the deepest bench they've had all season.
Rondo will have his hands full guarding Lin in crunch time. According to ESPN Stats & Info, in the 18 minutes Lin has played in those situations, he's scored 21 points on 6-for-13 shooting, 2-for-3 from downtown and 7-for-8 from the stripe. He's even performed well in the final period against two of the top-five defenses in the league, the Lakers (fifth-best at 91.2 points per game allowed) and Mavericks (fourth-best at 91.0 points per game allowed). In a 92-85 win over the Lakers on Feb. 10, Lin scored 11 points in the fourth quarter, and in a 104-97 win over the Mavericks on Feb. 19, he connected on two 3-pointers. That's a key takeaway considering the Celtics are the third-best defensive team, only giving up 88.6 points per game.
On the flip side, Rondo pales in comparison in crunch time. In the 40 minutes he's played in those situations, he's scored only eight points on 2-for-11 shooting. He does, however, have more assists than Lin (10 to 4). Overall, Rondo has gotten progressively worse in crunch time. Rondo didn't shoot worse than 40 percent in the first four years of his career in those situations, but he's declined in the past three seasons from 53.3 percent in 2009-10 to 34.3 in 2010-11 and then 18.2 this season.
The main reason Lin thrives in crunch time is because he's a much better isolation player than Rondo, who dishes the ball well but has trouble creating his own shot. In fact, he's ranked in the lowest percentile of points per play in a minimum of 300 plays since 2006-07. So far this season, Rondo ranks 146 out of 155. Lin, on the other hand, is far more productive in isolation. In Lin's 18.8 percent of those situations, he's scoring 1.103 points per play, while Rondo is only scoring .694 points per play in 11.6 percent of those situations. Lin's shooting percentage is 50.0; Rondo's is only 30.6. Lin also has a lower turnover percentage (8.8 to 12.2 for Rondo).
"He's worked hard," Rondo said about Lin during All-Star Weekend in Orlando. "A lot of people doubt him. I think he's a product of hard work, and now it's paying off. He seems like a pretty humble guy. He seems like a good guy. He's going to be here for a long time."
In general, pick-and-rolls make up the bulk of Lin and Rondo's offense. And when they're playing, their respective teams have a whole lot more production. Lin's on-court/off-court team difference is 101.7 points per game compared to 86.4, while Rondo's team difference 95.4 points per game to 86.0. The biggest thing Lin has to improve on his being more efficient in the pick-and-rolls. While Rondo has only committed 14 turnovers in those plays, Lin's number is up to 43 already, and he's only started 12 games this season.
"We're just playing hard, practicing hard, trying to get better and fix our mistakes," Lin said after Friday's practice. "It's going to be a tough road trip. We're going to have to grow and win some games or we're going to fall behind in the playoff race."
After a rough showing last Thursday against the Heat, committing eight turnovers to go along with only eight points, Lin is on the right track. He's coming off his best floor game as a Knick, collecting 13 assists and only one turnover in a 120-103 rout over the Cavaliers Wednesday night.
The team played so well in the fourth quarter, they didn't even need Lin or Anthony's late-game heroics. But considering the battle-tested history between the Knicks and Celtics, Lin should get his first down-the-stretch test, and based on what he's done this season, he's the right man for the job.